10 September 2020
Everton ramps up marketing in America following Rodriguez arrival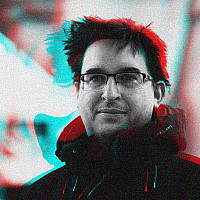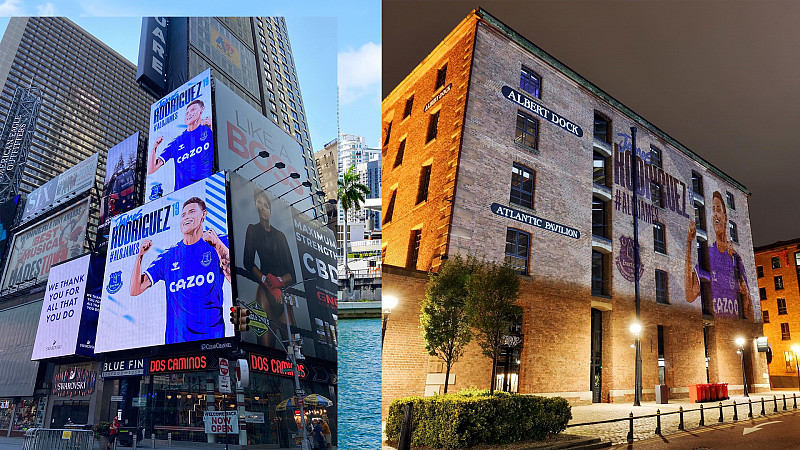 Everton FC has promoted the arrival of James Rodriguez with advertising in New York, Miami and Bogota.
The former Real Madrid player is the 8th most popular sportsperson on social media, with nearly 100m followers, only behind the likes of David Beckham, Messi, Lebron James, Neymar and Ronaldo.
As well as promoting the signing in Liverpool, with giant projections of Rodriguez on Goodison Park, The Royal Albert Dock and near Liverpool Lime Street station, the club also went international.
It placed an ad on the Colpatria Tower in Bogota, the tallest building in his home country of Colombia.
Everton also put advertising on Miami Beach and New York's Times Square.
The club hopes that with announcements in Spanish and English, that it will develop a "strong dialogue" with Latin American football fans.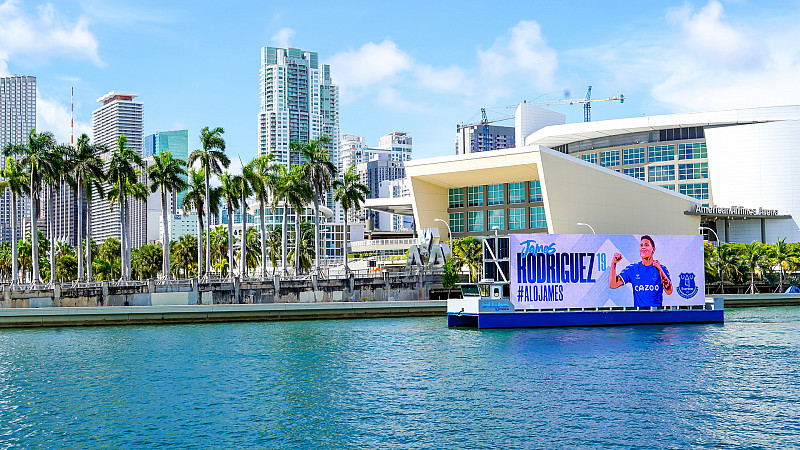 Within 48 hours of the announcement, it said that the coordinated physical, digital and social media, marketing and PR activity has reached more than 400 million people globally.
Beyond football, the signing of James is expected to bring forward a number of international plans for the club, including its first overseas office in the USA, which will either be in Southern California or Florida.
There will also be a direct link to overseas fans with the launch of new Spanish and Portuguese language Everton social media accounts.
"The announcement of James Rodriguez as an Everton player is, of course, a huge moment for us in terms of growing our international profile particularly, in the US and South America," explained Richard Kenyon, Director of Marketing, Communications and Community.
"James' popularity in these territories represents a brilliant opportunity for us – and fits perfectly with our international strategy and the associated marketing and engagement activity which had already begun in these areas.
"To mark James' arrival – and to build a strong platform for future activity – we needed to ensure we created a big impact globally and we've used a range of tactics to do this – including extensive social media and digital marketing activity and targeted outdoor advertising.
"We have been really pleased by the reaction we have seen already and excited by the prospect of what's ahead, including establishing our first international office in the USA.
"Everton is a big club with big ambitions globally – having James' on board will undoubtedly help us achieve them more quickly.