Manchester agency Music has been appointed by British Cycling after a three-way pitch.
The agency is to create and deliver Let's Ride, a year-long campaign to get the UK cycling.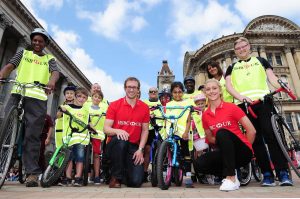 The new campaign will incorporate the HSBC UK City Ride
It will incorporate their five programmes, including HSBC UK City Ride, that make bike riding accessible to everyone. The campaign will launch in April and will be seen online, outdoor and in print.
British Cycling's head of marketing, Jody Dew, said: "This concept is really strong and it puts a smile on my face every time I look at it. Music have clearly demonstrated that they understand our remit as an organisation and have created a compelling campaign which we believe has the power to inspire a hugely diverse audience. I am looking forward to seeing it brought to life in the coming weeks."
Music aleady works with The British Fashion Council, Manchester City Football Club, Universal Music and Dr Martens.
Creative director Adam Rix said: "We're an agency that works all over the world but are incredibly proud of our Mancunian routes, so we've long harboured a desire to work with British Cycling – a world class organisation that is based here in our city but inspires millions across the globe."