26 November 2020
The Prolific North Top 75 Tech & eCommerce Companies 2020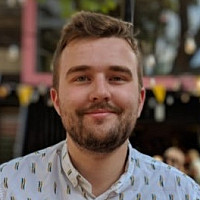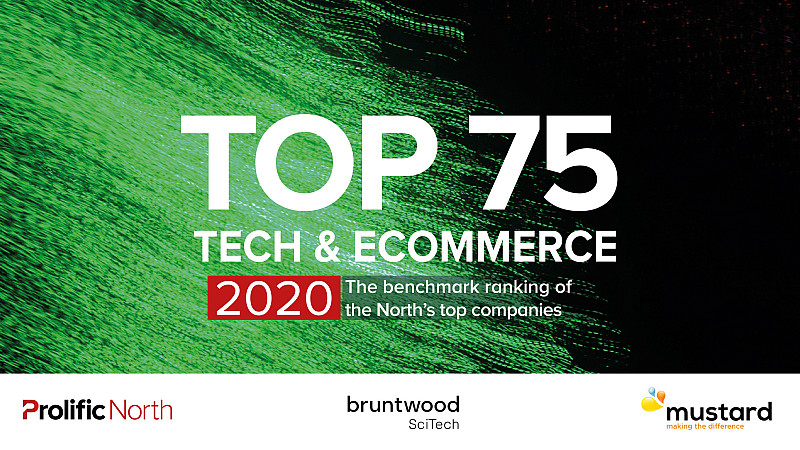 Welcome to the Prolific North Top 75 Tech and eCommerce Companies for 2020, the benchmark ranking of who's succeeding in one of the North's most successful sectors.
A sneak preview of the list was provided at yesterday evening's webinar, which was sponsored by Bruntwood SciTech, as well as sponsoring the Top 75 list.
Our audience came together to enjoy a fascinating virtual fireside chat to discuss some of the challenges and opportunities for the tech world in 2020 and beyond, then find out who was on the Tech & eCommerce list.
It was compiled by Mustard Research, our independent research partners, who drew on financial information and supporting data to create the full ranking.
Yesterday's webinar was hosted by Prolific North Editor David Prior, who was joined by Bruntwood SciTech - Manchester Managing Director Tom Renn, Tootoot Co-founder Michael Brennan, and TalkTalk Business Head of Enterprise New Business Gabriel Dooris.
The tech leaders discussed what has been happening throughout the COVID crisis, and what's on the horizon. Conversation covered the challenges and opportunities created by the pandemic. They discussed:
Working on and pushing through new elements and innovations.
How certain businesses have continued to grow while others have struggled - and why what's stood out the most has been resilience.
Tips for founders and owners on valuing and empowering their people.
The rise in importance of flexibility, and how it's helped companies survive and thrive.
How demand for tech will change when restrictions lift - with many widely having transitioned to a fully digital lifestyle, people will now expect many technologies to stay for convenience.
The uptake and rollout of 5G, and the exciting telecommunications innovations on the horizon.
How the COVID crisis has accelerated innovation and implementation of digital transformation by three years or more.
Hear the conversation in full and watch the full Tech & eCommerce webinar, sponsored by Bruntwood SciTech, right here:
Summary
Manchester has cemented its reputation as the leading destination for tech outside the capital, with companies based there taking the lion's share of the Top 75 ranking, highlighting its national and international influence as a hub for online retail and technology.
Bet365 Group, which was founded in Stoke in 2000 and has grown to become one of the UK's largest betting and gaming companies, is at pole position once again, outpacing its nearest challenger by more than £500 million in turnover.
Three names which can boast a particularly successful year, helping them climb the list, are Godel Technologies (up 13 places to 55), Pharmacy2u (up 11 places to 43), and Blue Prism Group (up 12 places to 31). Also climbing high this year are Tombola, rising to number 29, and PrettyLittleThing, rising to number 14.
Key findings:
The average turnover for the entire Top 75 was £327 million, while for the Top 10 the average was an enormous £1.69 billion.
Bet365 Group has bolstered its turnover over the course of just one year by more than £200 million, to reach £3.06 billion.
Once again, software companies have the stroingest representation. 16% of the list is software firms, whose average turnover is £206.5 million. 
Companies' revenue has increased by an average of around 9% compared to 2019. Overall employment in the region's tech sector has remained stable despite conditions, growing by about 1% since last year.
The Prolific North Top 75 Tech & eCommerce Companies 2020
Sponsored by Bruntwood SciTech
2019 ranking in brackets
Ranking

Company

Activity

Location

Employee Count

Turnover

(£000s)

1 (1)

Bet365 Group

Stoke-On-Trent

2 (2)

Radius Payment Solutions

3 (5)

ARRIS

4 (3)

The Very Group

5 (4)

Sage

6 (6)

TalkTalk

7 (8)

The Hut Group

8 (7)

Booking.com

9 (9)

AO World

10 (12)

Daisy Group

11 (10)

BetFred

Gaming technology & software development

12 (14)

Boohoo

13 (13)

Plusnet

14 (22)

PrettyLittleThing

15 (17)

Auto Trader Group

16 (15)

Moneysupermarket

17 (18)

KCOM Group

18 (19)

NCC Group

19 (21)

Buy it Direct

20 (11)

Ebuyer.com

21 (16)

Communisis

Integrated business services

2,106

22 (20)

Missguided

23 (23)

Emis Group

24 (27)

True Potential

25 (24)

GB Group

26 (28)

BJSS

27 (25)

Hocomm

28 (29)

Chess

29 (34)

Tombola

30 (26)

Nycomm

31 (43)

Blue Prism Group

Robotic process automation

32 (33)

Redcentric

33 (35)

Entertainment Magpie

34 (32)

Beauty Bay

35 (36)

SSP Topco

36 (38)

Parcel2GO.com

37 (37)

K3 Business Technologies

38 (39)

Paymentshield

39 (31)

On The Beach

40 (40)

Ikonic Technology

41 (44)

PC Specialist

42 (41)

Celerity

43 (54)

Pharmacy2u

44 (47)

Proactis

54,140

45 (45)

UKFast

46 (50)

Proact IT UK

47 (42)

CDL Group

48 (48)

Mobica Holdings

49 (49)

Helical Industries

50 (46)

ANS Group

51 (56)

Tracsis

52 (51)

Rockar 2016

Consultancy and system development

53 (52)

Desk Top Publishing Micro Systems

54 (57)

Atom Bank

Durham

379

55 (68)

Godel Technologies

56 (64)

Giacom World Networks

57 (58)

Technology Services Group

58 (61)

Pure Technology Group

59 (55)

M247

60 (60)

Beyond Trust

61 (67)

Zoo Digital Group

Subtitling and dubbing provider

62 (73)

Cloud Technology Solutions

63 (63)

Love Energy Savings

64 (72)

Performance Horizon

65 (65)

Centriq Group

66 (70)

Aspire Technology Solutions

67 (66)

MDS CEM

68 (69)

Digital ID Group

69 (71)

ITPS

70 (74)

Hybrid Services

71 (75)

Surpass

72 (-)

Bigchange

Workforce management software

73 (59)

Team17

74 (30)

Evolution Funding

Information reviewing 31/10

Information reviewing 31/10

75 (62)

Payzone UK

Information reviewing 31/10

Information reviewing 31/10