11 October 2019
Tributes to Last of the Summer Wine's Juliette Kaplan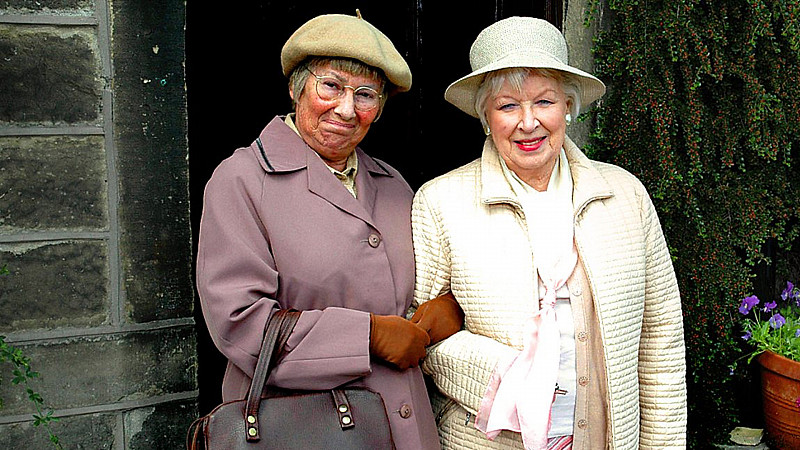 Juliette Kaplan, who played Pearl Sibshaw in long-running sitcom, Last of the Summer Wine, has died, aged 80.
Her agent said she was surrounded by her family:
"Juliette Kaplan, 'Our Pearl', has finally succumbed to the cancer she has bravely battled for so long," said Barry Langford.
"Thank you everyone who sent their love and support to this fearless and supremely gifted actress. As she said, "Ta-ta and it's been fun."
She played "battleaxe" Pearl for 25 years, appearing in 226 episodes of the programme, between 1985 and 2010.
Later she would move across the Pennines to Coronation Street, to play Agnes Tinker.
Kaplan was born in Bournemouth, but when she was 6 months old, she moved to her father's native South Africa, when her parents split up. At 11 they moved to New York for a year and that proved to be a key moment in her life.
She told Kent Life in 2012:
"Because of my Brooklyn accent mixed with a strong South African accent, my mother sent me to drama school in Bournemouth to polish up my voice. And that was it it was never even discussed. I went to after-school drama classes and my mum said she would let me carry on there if I got a teaching qualification. So I did."
She got the part of Pearl when she heard of the Last of the Summer Wine touring performance in 1984. She got called for an audition in London and was told they required a "very aggressive actress."
"Next day I had a recall, went back to London and told them I couldn't keep on running up and down the motorway, they either wanted me or they didn't. It's no skin off my nose. By the time I got home there was a message on the answerphone you've got the part."
A year later Alan Bennett and Roy Clarke wrote the stage version of Pearl into a permanent character on the television series.
Kaplan also appeared in EastEnders, Brookside and Doctors.
In 2003 she toured the UK with a stage show, written by Roy Clarke, called Just Pearl.