04 February 2021
Where I WFH: John Jackson, Founder & CEO, Chalkboard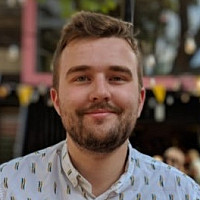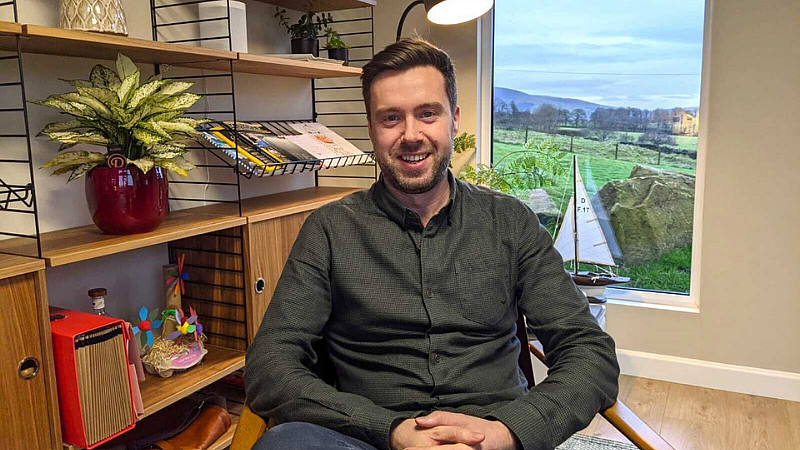 Founded in 2019, Chalkboard is a Manchester tech company which helps small businesses manage all their customer interactions from one platform.
Its founder, John Jackson, intends to grow the startup rapidly - hiring to its product development team throughout this year, with the target of creating a team of 30 in 2021. Chalkboard supports local cafes, restaurants, salons, estate agencies, medical services and more, levelling the playing field for small independents as they compete with the bigger players.
Already fairly flexible, in 2020 Chalkboard moved its office to Ancoats, but like most others has quickly moved to full-time WFH. Today, John shares his home-working structure.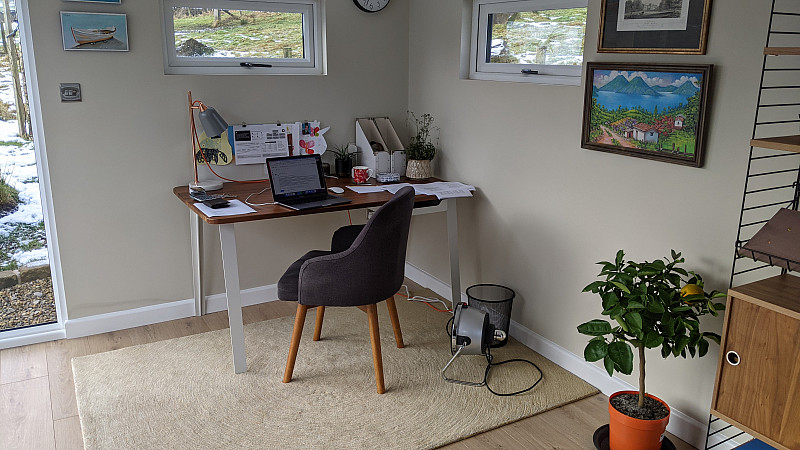 Where in the house do you work?
I installed an office building in my garden a few months before the pandemic started, which was very lucky timing!
Paint a picture for us of the view from your window.
Living in the countryside I am spoilt for views. Each one of the large windows is a picture - the Pennine hills, the wildlife, lots of walkers wandering past, and the occasional snowfall turning everything brilliantly white.
Talk us through your home-working daily routine.
During the day I switch between sitting and standing at a sort of shelving unit which doubles up nicely as a standing desk. I don't have a routine as such, but I make to-do lists and mostly stick to them. I have tried structuring the day, but for me, staying comfortable in a quiet environment, with a plan, works the best.
Which tools and technology do you rely on when working from home?
Like most people, I use Zoom, Gmail, etc. One change we've made is to use Slack for basic real-time comms, and Twist for more structured decision making. We find it much easier to categorise group conversations, then find them again without getting buried in rogue threads!
What do you miss most about working from an office?
Just being around people and walking around the city on my lunch break. We moved into the iconic Beehive Mill in Ancoats late last year and it's a fantastic space for networking and getting to know some of the many great businesses in Manchester.
Exploring ideas for long stretches of time feels much more natural to me in an office environment. It's easier to be creative when you can just turn to the person next to you. But I get a lot more of the day-to-day stuff done working from home.
What tips do you have for increasing productivity while working from home?
Find a quiet place if you can and invest the time in creating an environment that feels right for you. Just make sure you're comfortable and keep regular hours, as much as you can, to get on top of that separation between work and home life.
Definitely step away from your desk every now and again. We forget how much of this we would have done automatically in the office. Spending time outside walking has been great for me.
Will you look to work from home more in the future?
WFH is nothing new at Chalkboard; I've always worked from home for three or four days a week and I'm happy for the team to do the same. It really works for us, so we'll definitely carry on with this model.
How do you think the workplace will change in the future?
People will eventually return to the office, of course, but hybrid and flexible models will become more common. Technology has made it so easy for us to collaborate, regardless of location.
It's also helped to give us some sort of work social life - with virtual drinks and games, for example. But after nearly a year, I think most people appreciate it can't replace the benefits we get from seeing each other face-to-face - in terms of work or culture. Even with people working from home more, I hope we'll see a return to the city centre so it can thrive again.
But for our customers, micro businesses - from coffee shops to florists, physios to pharmacies - located in local high streets and villages across the UK, they've actually enjoyed a resurgence in the desire to shop local. The new hybrid model, with more people working from home more regularly, will hopefully see that continue when the world returns to normal.