22 January 2020
What I've Learnt: Robin Skidmore, CEO & Founder at Journey Further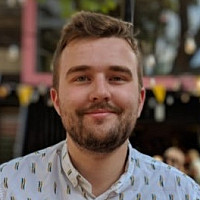 Journey Further specialises in PPC, SEO, PR, Social and programmatic. Its Founder is Robin Skidmore, who set up the Leeds-headquartered agency in 2017.
An experienced digital specialist, Robin launched his first agency, Epiphany Search, in 2005 - growing the company organically from two to 160 staff by the end of his time there. As well as leading Journey Further, Robin also invests in and advises startups like ubio, Everpress and Snaptrip.
We sat down with Robin to find out what motivates and inspires him.
Which single daily habit or practice could you not do without?
I heard about Wim Hof (The Iceman) a couple of years ago and was intrigued so I started reading about his beliefs and techniques.
Since then I have had a freezing cold shower every morning without fail. Nothing like it for waking up the nervous system! Two years in and I still dread it every day. It's a great way to build up your tolerance levels, which in time can help manage your emotions with the ups and downs of life. 
What's been your luckiest break?
I don't really believe in luck. The people I admire have achieved great success and made a difference through perseverance and hard work.
That said, I was lucky to have met two young guys who I recruited as grads 14 years ago. I am now proud to call them my business partners at Journey Further and they are absolutely at the top of their game. 
What's your best failure?
I've had a few decent failures! Could it be when I spent six months building a subprime mortgage brokerage just before the wheels fell off? Or the time I invested in a T-shirt company and we opened a store next to Topshop and went under four months later? Or when I almost sold half of Epiphany (my last agency) in year two for £50,000 and the loan of a black BMW 3 series?! 
You can't learn without failing. Ultimately, some of these mistakes cost me a lot, but the lessons I have learnt protect me from making the same mistakes again. We have a pioneering spirit in our agency and if you want to be the first, expect to fail.
What is the best investment you've ever made, either financial or time?
I travelled the world for six months with my daughter when she was nine months old. There will never be a better investment of time for the memories we created. 
How would you describe your work/life balance?
Balanced (most of the time). I talk about balance a lot; it's one of my top values. Life is too short to be working 24/7, and you aren't your company or your job.
I try to balance work, fun, travel, exercise and family in equal measure. It doesn't come naturally or easily, and like anything, it needs proper planning and reflection time. 
Which book would you recommend others to read and why?
'Deep Work' by Cal Newport. In the social media age, distraction is everywhere. Those who can focus and deliver quality work can command the top jobs and highest earnings, while less skilled jobs become lost to automation.
'Deep Work' puts this into perspective and outlines actionable techniques and case studies for how some of the most accomplished cut distraction and create real value. It's my go-to whenever I'm struggling to focus. We have built a custom 'Deep Work' space in our new office that is a haven to escape to when the open plan office gets too much. 
What one piece of advice would you give your 21-year-old self?
Exercise more, drink less. Believe in yourself. 
Who or what has had the single biggest influence on your working life?
Probably my upbringing. I didn't have a lot growing up and that taught me the value of hard work, money and determination. It's ultimately what drives my ambition and the choices I make. 
Tell us something about you that would surprise people.
As well as running my agency Journey Further, I am the proud owner of the Fox and Hounds pub in Hertfordshire. This was a huge restoration project I took on two years ago. Since we opened in April 2019, the pub has won a number of awards and was included in the 2020 Michelin Guide, which is by no means easy! I am incredibly proud of what we have achieved as I had zero knowledge of that industry! 
What does success look like to you?
Success is pitching and winning against the bigger agencies then consistently delivering greater results through our amazing team and approach. 
I am also a firm believer that culture beats strategy every time. Creating a culture where people feel valued and genuinely enjoy coming to work feels a lot like success right now. We've grown to a team of nearly 60 in three years and have lost only two people - this bucks the trend of the industry and is as important as major financial metric we track.