16 December 2019
A Week in My Life: Graham Withe, Managing Director of We Influence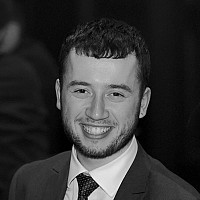 We Influence is a digital agency specialising in search marketing and conversion rate optimisation.
Based in Ellesmere Port, the agency works alongside clients to deliver results that will help make them more profitable.
Managing Director Graham Withe shares what his working week is all about. 
Monday
By the time my alarm goes off at 6.00am I've already spent an hour the night before planning what I want to achieve during the week. This is an important routine for me as it enables me to have a clear vision come Monday morning.
I have a 45-minute drive to our office in Ellesmere Port, during which I listen to 'The Smart Agency Masterclass' podcast by Jason Swenk. Lots of great information about strategies that are working for agencies today. I love listening to podcasts and hearing different views and opinions about people who work in our world. 
My first office job today - and every day - is to log into online banking and reconcile the bank so invoices, payments and cash flow are all up to date. I have learnt from bitter experience (not enough space to talk about that here) how important it is to always have a full picture of the company's financial health!
I have an Operations meeting with my Strategy Director to look at sales, prospects and resource utilisation. There are then 'status' meetings for the Earned Media and Paid Media teams as we discuss each client, assess current performance and talk about improving results further.
I also look over various presentations today which the team have put together as we pitch for new business. We always go the extra mile with these presentations. They are usually between 60-80 slides long. They take time to prepare but the client appreciates the effort and the insights we provide.
Tuesday
As much as I like being in the office and around the team, I also enjoy getting out networking and talking to people about the business. This is one of those days!
I have a 10am appointment in Tarporley with a business consultant - opportunities here for us to introduce business to each other. Then it's off to Manchester to meet up with a company who specialise in returns management software. There are opportunities here for We Influence to promote this software to our eCommerce clients and for this company to talk about We Influence to their existing clients. Win-win!
In the evening I attend a networking event in Manchester called 'What Makes Your Agency Valuable?' This was organised by The Agency Collective, of which I'm a member, and was a great session.
Wednesday
Out of the office again today at the 2019 Agency Leaders' Summit in Manchester. An all-day event which included sessions on the future of agencies, retaining talent, strategy, driving profitability and leadership. 
It's important for me to continually work on the business and never stop learning or improving.
In the evening I attended a webinar by Google. As a Google Premier Partner we get special access to exclusive events and it was really interesting to hear their views on what the 'agency of the future' looks like.
Thursday
In 2017 We Influence secured investment from Praetura Ventures. This was significant as it enabled us to grow the business.
Ben Hatton from Praetura is on our Board and today it's my monthly board meeting with him. Prep work has taken place during the week as I put a 'board pack' together which covers the performance, costs and profit from the previous month, and then we discuss strategy and ways to add further value to our customers and grow the business. 
September was a great month in terms of it being our best yet financially, but it also came with challenges as one member of staff has decided to return to his native Spain and we are going through a period of change in terms of how we are structured to cope with future growth. 
I will present a breakdown of this information to all the staff next week in our monthly company update. I am always keen to be as transparent as I possibly can, to ensure everyone who works for the business knows how well we are performing and the direction the business is taking. I hope it gives them a boost to see some of the numbers we are producing and the impact their work has on the business.
After the meeting, it's time to catch up with the design team to hear the latest on our new company website, which is hopefully going live soon!
The day ends with a meeting discussing branding with a specialist we have brought in to help us reposition the business. We have moved away from being a generic digital agency to focus on eCommerce marketing and so we need our branding and identity to reflect that. There is a sizeable project underway to make that happen, which is very exciting.
Then it's home time again - which is usually always 5pm at We Influence. I am proud of the fact we have such an organised team who do such a great job during the day that they always leave on time in the evening. I don't want or like people staying after 5pm. I know they have lives away from the office.
Friday
One of the most satisfying parts of the job is meeting with our clients. It's always great to hear how much we have helped them grow their business.
Today I travelled down south with my Strategy Director for a six monthly review with one of our key clients.
It was a highly productive meeting. We may get the credit as we are there presenting another 80-slide deck full of facts and figures which show tremendous growth, but it's the team back in the office who deserve it most as they have done all the hard work.
On the way back I go and look at potential new office space. Our existing lease expires early in the new year and so we are looking at options, taking into account our predicted growth.
I make it back to the office in time to enjoy an end of week drink with the team. 
Another week done - roll on next week!