07 October 2019
A Week in My Life: Neil Adams, Managing Director of Powerhouse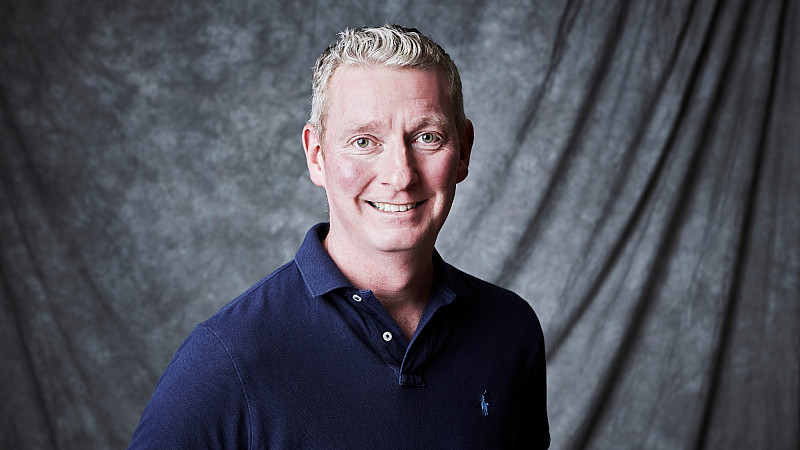 Neil Adams is the Managing Director of Powerhouse, a Leeds-based creative content studio founded in 1999. 
Employing 25 staff, it is one of the UK's largest visual content studios, working with some of the UK's best agencies and recognisable FMCG, fashion, lifestyle and home brands. 
Neil talks us through his working week...
Monday
Monday morning starts with a cat pawing at my head, as usual. He alternates between my wife and I until one of us gives in. Today I succumb around 6:15am, feed him and take coffee for the both of us back to bed. 
It takes me 10 mins on a bad day to drive to work. Living close to work is wonderful and a very deliberate decision. I'm greeted at the door by an incredibly cute dog that belongs to Nick, a brilliant stylist, who is working on one of our shoots today. We are very welcoming of pets at Powerhouse, and they definitely make a Monday feel brighter. 
After another coffee and catch up on the team's weekends, I attend my weekly sales meeting. It's a great way to kick-start the week with updates on exciting projects won and new opportunities, while getting everyone on the same page for the next five days.
Next, I work on a video proposal for a large FMCG brand, which takes me up to lunch. Our Powerhouse lunches are a daily ritual which bring the whole company and our clients together. 
Back in 1999, when there were just three of us, we made a point of eating together each day. It's good to take a break and our clients loved it, so it stuck. Today, about 35 of us will tuck into a buffet lunch in our breakout area and chat about our ideas, our personal lives and the news of the day. It's become part of our culture now. 
I work on more proposals in the afternoon, and come 6pm I head off home, for a quick change and then on to a group tennis coaching session. 
Tuesday
It's my turn to sleep a while longer as my wife makes the coffee. 
I have a meeting with Tom Gabbutt, our creative content director. Tom is a former BBC director/producer who joined Powerhouse a couple of years ago. His creative mind is incredible. The first thing we talk about is a new innovation initiative. We want to encourage everyone in the business to get involved in sharing ideas, big and small, that could improve Powerhouse. Great ideas can come from anyone - not just the leaders. 
Next, I'm due to start looking over a legal contract, when one of our producers calls an urgent briefing. One of our clients has given us a high-priority project with last minute deadlines. While some campaigns are planned months in advance, clients increasingly need to be able to react to news and events with speed. It happens a lot, and we rarely say no, so it's all hands on deck to make it happen. I can't help but be pleased to have an excuse to put that contract off for a little while longer. 
Tuesday evenings have become a regular Powerhouse badminton session, organised by our work social team. 
Wednesday
Today I have my weekly leadership team meeting. It's an incredibly busy period for us, since moving into our new 14,000 sq. ft. studio in Leeds last year. With seven studios and nine kitchens, it's helped us to secure work with some exciting new brands - the details of which we discuss at the meeting.
We've found that the extra space has given us capacity to deliver work in a much more flexible and agile manner than previously. We have a 'newsroom mentality', whereby multiple photographers and video crew can be working on the same project at the same time, shooting for different needs. For example, one may focus solely on shooting an advertising campaign , while another is getting social content, whilst maintaining the same consistent brand style. It's rare to just shoot for one channel these days. 
Then I do a walk-through of all the studios - I try to do this at least twice a week, but ideally daily. It's a buzz to meet with all of our people and clients and see the projects they are working on first hand - I think it's incredibly important to keep a hand in the day-to-day shoots. Today there are a huge variety of projects in different studios.
In one, we have a team creating content for a new M&S burger. In another, there's a baking project for Dr. Oetker. We also have a fashion shoot in our infinity cove, while a different team is working on images for Fodder, the cafe/charity shop at the Yorkshire Showground. The great thing about Powerhouse, I think, is that we have the ability to work on multiple campaigns for global brands, whilst also providing affordable options for smaller, local businesses.
Later in the day I get a call from an old client who needs our help. We catch up and arrange to meet - it sounds like a really exciting project. 
A potential new client also visits the studio with a brief for us to pitch on. I do the walk again, this time as a tour guide. I feel like I need a flag or umbrella to hold up. If I could get all of my prospects to the studio, my conversion rate would go through the roof. It's hard to sell to people on culture - it needs to be experienced. I can't say, "work with me because we are nice people," but once they see it first hand, it's so powerful - as that's something you can't fake.
My son cooks curry for tea. He's back from uni and it's great to have a talented, eager cook to come home to.
Thursday
I'm in London today and on a silly-early train. I'm going to visit a couple of our clients and see two potential new ones. I'm in London much more these days. As we grow, we are becoming more recognised nationally, and brands are increasingly willing to engage a northern creative content studio. It used to be a hard sell to get London clients 'up-north', but it's getting easier. Leeds' and Manchester's thriving digital and media industry truly is a northern Powerhouse and each success story helps us all.
In my meeting at a global ad agency, I'm the entertainment for a show-and-tell session. I get a round of applause. I hope to get some follow-ups!
Friday
As most people do, I love Fridays.
We have a regular company meeting, where we share the news, company performance and preview the work our talented team has been working on that week. It's important people get the recognition they deserve.
Friday is also known as 'Butty Friday' - our weekly treat to a breakfast sandwich.
Mid-morning, I get to work on our people development plan with my operations director, Mark. 
Mapping out each individual's growth plan is vital for our own planning but it's also important for our people to get a sense of what career opportunities will be available to them in the future.  
We round the week off with a trip to the local pub for a well-earned beer in the sun. It's been a good week.