09 September 2019
Getting into broadcasting: a seasoned pro shares his story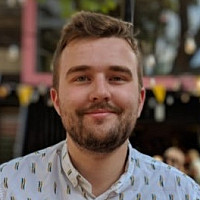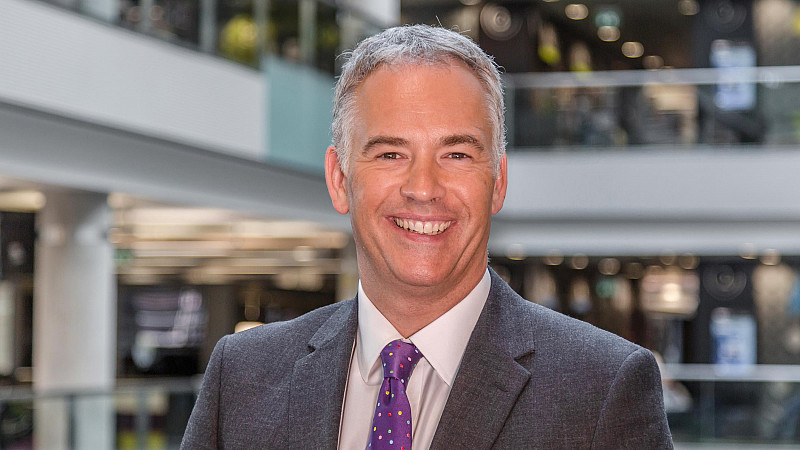 Roger Johnson is recognisable across the region as the lead presenter on BBC North West Tonight, as well as making appearances on national TV. Having spent many years in the sector talking about news, sport and more, he tells the story of his first forays into TV work, and how others might follow in his footsteps. 
"Hang on!" I just about heard the wind-muffled shout, as the motorbike surged towards the cyclists in front.  
180 of them riding on the wrong side of a Hampshire country lane. As we undertook them at 80mph, the riders at the front started to spread across the full width of the road. An extra surge of power - as bits of hedge lashed our legs - and somehow we squeezed through. I'd never ridden pillion before.  
Welcome to the Tour de France!
It was pretty much my first assignment after joining BBC Radio Solent in 1994. Le Tour had come to England and my job was to commentate from the back of a motorbike at the front of the race. There was one problem: because we'd started late, the technical checks hadn't been done, and I couldn't hear my colleagues. In fact, all I could hear in my headphones were taxi firms and pizza delivery companies. So I started commentating, thinking that - if they could hear me - they could dip in and out of my monologue as required.
Four hours later, as the peloton turned into the finish straight on Southsea seafront, I ended with the pre-arranged handover and the motorbike peeled away. 
Afterwards, I expected recriminations and angry faces, having contributed nothing. In fact, I received plaudits. They had been able to hear me, they had realised what I was doing, and I'd done just the right thing. My BBC career was off to a good start.
I was lucky: I got a break thanks to work experience, hospital radio and countless weekends, from age 16, working at local radio stations in Stoke-on-Trent. Media Studies courses were scarce 25 years ago.
After studying at Birmingham University and the University of California in Berkeley, I'd enrolled in a journalism course when a speculative application to BBC Radio Solent resulted in the offer of a job. "We'll give you all the training you'll need," the boss said. So I packed my bags and drove to Southampton: I'd never been there before.
My BBC career has given me the chance to work on a diverse range of programmes; from presenting breaking news on the BBC News Channel to commentating on Match of the Day; from North West Tonight to BBC Breakfast. I'm lucky to have such an enjoyable job. There's a buzz to live broadcasting which is hard to beat. It's what first attracted me to the job - and it's what still excites me every day.
Whatever you do, getting on in your career involves sacrifices. This weekend, for example, I left family and friends in Anglesey to travel back early to present BBC Breakfast. There have been countless similar occasions over the years. But others, I know, give up so much more.
I have also been lucky to work in both news and sport. There's a clear distinction. When I first arrived in Southampton all those years ago, the sports reporter had just handed in his notice.  
Knowing I had an interest in sport, the editor put me straight into his role (hence the motorbike trip). Although I did all the training courses and was able to find short secondments to work in news, for many years I was regarded as a "sports bloke".  
Some news reporters seemed to perceive themselves as being somehow superior. So when I started to present news programmes almost two decades ago, it took a while to be accepted. I found it frustrating - but one thing I've often noticed is that television presenters whose background is in sport - and particularly local radio - are often the most competent at talking their way out of trouble when things go wrong on-air.
I'll always remember going to Twickenham for Sale against Leicester in the Pilkington Cup Final in 1997. Kick-off was at 3pm - our programme started at 1pm. We had very little material prepared to fill the first two hours.
I asked Jimmy Wagg (BBC Radio Manchester's long-serving Saturday sports presenter) what I could do to help. "Just get me a coffee," he replied. With limited input from me and others, he proceeded to fill the time before kick-off with a self-created, high-entertaining phone-in. It was a masterclass in ad-libbing.
The media is larger and more diverse today than when I started, yet it seems tougher to break into. Media Studies courses abound so, although demand is high, supply is higher. The boss who had the faith to hire me and offer to train me would not have that freedom today.  
So my advice to aspiring broadcast journalists is always the same. Study something which interests you - remember Media Studies does not necessarily give you an edge - and then do a postgraduate course. And get as much work experience as you can along the way.