07 August 2019
Chelsea Norris: Whaley Bridge floods and the power of local radio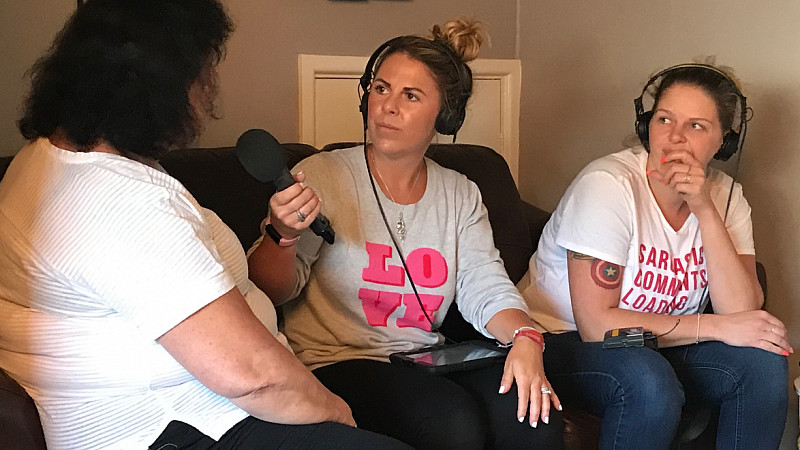 Chelsea Norris, BBC Radio Manchester Breakfast presenter, talks about her live outside broadcast experience in Whaley Bridge during the recent flood.
"I always wanted to be a journalist and I recall during my degree having experience in TV, online and newspapers but when I experienced the speed of radio, I really fell in love with it. To be able to react to something so fast and speak to people so one-on-one so personally is what I love the most.
Last Thursday night I'd gone out for tea with my daughter, Minnie, only to see the heavens open with rain like I've never seen before. I even filmed it and put it onto my Twitter and Instagram as I couldn't believe how fast it was coming down. It was only just after that I heard about the residents being evacuated in Whaley Bridge which isn't too far from where I live.
As I turned on the news I couldn't believe what I was seeing. I wasn't surprised to receive a call from my station editor, Kate, after 9pm that night to say I would be doing the Breakfast show live from a family home in Chapel-en-le-Frith just up the road from Whaley Bridge. The family had offered to take people in who'd had to be evacuated from their homes.
Knowing the house is only 20 minutes from mine but also knowing the recent weather and road closures I decided to leave much earlier than I would normally. But I didn't quite expect the journey I encountered.
I got all the way to Disley to be told the road was closed so I had to turn back and go about 20 miles out of the way to then join the A555 which was also partially closed due to flooding. I came off the A555 at Poynton to go all the way to Bollington, over the tops to Pot Shrigley before finally being able to get through Whaley Bridge to the broadcast location.
I did miss the start of the show and arrived about 10 minutes later as my colleague Mark had stayed on air. He handed to me and I did the first link with my handbag still around my neck.
It's always amazing being invited into somebody's home when they've never met you before, but the warmth and goodwill they showed was clear to see. Standing in borrowed pyjamas and not knowing if they would ever see their home or any of their belongings again was a huge thing to witness.
The atmosphere was completely surreal, the morning was beautiful. And then seeing the Chinook helicopter going backwards and forwards and hearing the whirring of the engines was just amazing while watching all of it live on BBC News from the lounge room.
On that lounge room wall was a sign that read "Always look on the bright side of life" which I thought was significant in this moment - especially watching Bev hug her children on the sofa.
I hugged the family as I left and I hoped more than anything this disaster could be averted and they would find some normality. I was grateful they allowed me to share that moment with them, and in turn we as listeners could share it with them too. And that's the power of local radio."