25 February 2019
A Week in My Life: James Adam, MD of Cunning Plan Agency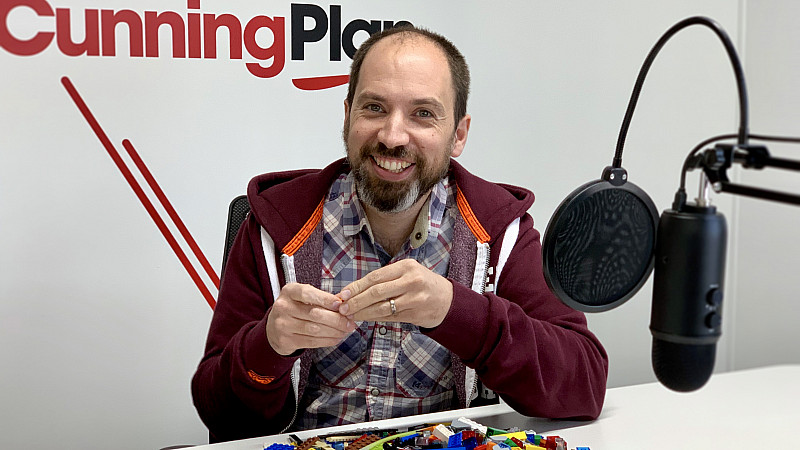 James Adam, Managing Director of Altrincham-based Marketing Agency Cunning Plan, takes us through a week in his working life.
Monday
Monday mornings start like many other days, with a not-so-gentle nudge from Alexa that it's time to get my lazy bottom out of bed. It's 6.30am and Kate's already up and about so it's time for me to get my game face on before we deal with our beloved offspring. (Just to be clear, I'm not in some polygamous relationship - Kate is my wife, Alexa is Jeff Bezos' spy-bot that lives in most rooms in my house.) Alexa also runs me through a quick briefing of my plans for the week along with any key news from my various feeds whilst I'm getting my self together.
Once the little ones are up and dressed there's just enough time to squeeze in a quick Pokémon battle with my eldest before the house is emptied and everyone delivered to their places of business/learning.
I always get into the office at 8am which gives me a bit of time to make a coffee, check over the social feeds for anything exciting, and go over our project management software before the team arrives around 8.30.
At 9am it's time for the Monday meeting. As a small full-service agency, there are always an enormous amount of moving parts to keep track of from web development at various stages, creative design and brand projects, to weekly social media content and content marketing production - so every Monday we run through ClickUp (our project management software) to ensure everything is where it should be. It mostly is.
After that I've got a call with one of our mobile phone clients, Monqi in Barcelona and Tesco in Slough - which is always a great opportunity to be reminded that whilst Altrincham isn't Spain, it also isn't Slough. Very exciting plans are afoot for phase two of the campaign and the big Easter push.
The rest of the day proceeds somewhat uneventfully - I could fabricate something suitably glamorous but I'm sorry to say it's a lot of business-running nonsense. Vital, but not terribly sexy.
I wrap things up at 5.30pm and head for home via after-school club to collect the little monkeys and to be regaled with tales of mischief and shenanigans from school. I fix them a quick snack then we settle down for a few more chapters of David Walliams before bed (for them).
I cook a bit of tea for when Mrs Adam gets home which is swiftly consumed, stories of our respective days are shared before we plonk ourselves down in the lounge for a lazy evening in front of Arrow.
Tuesday
Early start - 5.30am I'm woken, not by Alexa but by former WWE Wrestler Diamond Dallas Page (DDP) who is keen that I get my DDP Yoga session in before the kids wake up. Before you judge me too harshly for this, give it a Google - as DDP is prone to saying 'This ain't your mamas yoga'
I'm dropping the kids off this morning and then it's off to the station for a trip to the Big Smoke to visit a shopping centre client in North London.
We discussed our 2019 integrated marketing campaign 'Offline Shopping' - our crusade to get people off their phones and back into brick and mortar retail. It's a full-service campaign with print, digital, social media marketing and outdoor advertising. Cunning Plan came up with the concept and the client has been behind it from the start and so we're all enthusiastic and raring to go which makes for a long but very rewarding day.
While we're down there, we also had a meeting with the team at Angel Comedy to discuss our sponsorship plans - this place is such a great venue. We had the pleasure of seeing Eddie Izzard in a tiny gig a couple of weeks earlier.
At 5pm it's off to the pub with the client for a post-meeting debrief and general chin-wag before the always last-minute mad dash for the train. The train is a great opportunity to catch up on everything I missed from the day, respond to some emails and then squeeze in a bit of Switch before the train arrives home at 9.15pm.
Wednesday
It's up and away pretty sharpish this morning as we've got a lot to squeeze in today. I'm in the office by around 7.30am which gives me a chance to fire up Feedly and digest a healthy dollop of industry news so I have something to contribute to the Cunning Plan social content this week.
It's also Podcast filming-recording day so I like to get a head start on today's subject, prepare my questions and discussion topics. We've been doing What The Fox (that's the podcasts' name) for a while now and it's starting to gain a few listeners (feel free to check it out!) but mainly it's a fun outlet for us all to have a general ramble about various marketing topics. 
It's great for the team to take a deep dive into their chosen subject and get up to speed on the latest news and issues we face in marketing. It's also an opportunity for me to learn something too. We're passionate about sharing knowledge within the agency and beyond. It's also nice for some of the team who fancy trying their hand at video and editing to be able to jump in and take ownership for a live project.
Around lunchtime, I head into Manchester for a new business meeting - all went pretty well. A trip to Manchester on a Wednesday also affords me the opportunity to swing by my favoured comic shop, Travelling Man, to grab my comic order.
Back to the office to spend the afternoon putting the finishing touches to a Lego Serious Play workshop for tomorrow. That doesn't quite work out as planned due to a series of left field client requests and creative that needs signing off. I'd love to paint a picture of a well structured, carefully planned week, but the reality is, nine times out of ten it doesn't work like that - and the afternoon has disappeared before you know it, 
Luckily Wednesday is Rainbows so my next parental responsibility isn't until 7pm which gives me a clear bit of space to finish off my plans for tomorrow before clearing off home.
Thursday
Thursdays are DDP Yoga days so I squeeze in the Diamond Dozen before dropping the little ones off and heading into the office.
When a lot of time is spent jumping from task to task, it's really nice when I get to spend most of a day doing just one thing. It's especially great if that one thing involves indulging my love of Lego for work purposes. 
Today we're hosting a Lego Serious Play workshop for a client to help them develop a real-time strategy for their team and build the values of their brand. I became an LSP Facilitator a couple of years ago and was trained by Robert Rasmussen, the man who developed the technique whilst working at Lego.
It might sound like a load of nonsense, but it's really incredible to watch it at work. I won't spend too long extolling the virtues of the technique (give me a shout if you want me to!) but suffice to say, it brings together a group of people from various parts of a business, puts them on a level playing field and allows them to share ideas and challenges in a safe way and pull together a plan that they can all support. 
The day ends, as these days so often do, with the entire board room covered in amazing Lego constructions and, whilst they aren't going to win Lego Master Builders, they still carry enormous significance and weight to the people that created them. 
Before we wrap up, we have the task of documenting everything for writing up later and then the unenviable challenge of dismantling the brick creation and resorting everything back into their proper boxes - I like them to be tidy and colour coded!
Friday
Fridays are another good opportunity for me to get into the office nice and early so I can get a headstart on the day - and increase the chance of getting a sharp (or at least timely) exit at the end of the day. 
First up, we've got a Christmas Brochure creative to review for a hospitality client - a few tweaks and we're pretty much there. Once that's approved, we'll be working up plans for the larger campaign that will help launch Christmas (at a time when no-one really wants to talk about the festive season). 
Joe, the Account Manager, has been working with Manchester Metropolitan University and the year three Marketing students who are working with us on a real-life brief so I spend a few minutes chatting about how that's progressing.  We are committed to helping develop the digital marketing stars of the future. As we found out when we met David Edmundson-Bird, Principal Lecturer in Digital Marketing and Enterprise at MMU, it's vital that the industry engages with students to ensure that they're work-ready when they graduate.
Next week is the Mobile World Congress which is a massive event for a couple of our mobile phone clients. Sadly, we are not heading to Barcelona this time, so we'll have to make do with our clients providing updates from the show floor. We're helping Energizer launch no less than 26 new phones next week so we quickly run through the social media plans with the team to make sure everything's in place.
Friday afternoons see one of the team present a weekly challenge. We take a break away from the screens to partake in a particularly heated tournament that involves both Table Football and Mario Kart.
With that, it's time to shut up shop and head home for the weekend. The rest of the Adam gang is already home so the phone goes on charge, business-James goes in the cupboard and it's time to focus 100% on playing an eclectic mix of Lego, Pokemon, Disney Princesses and Sylvanian Families. Who knows, I might even let the kids join in too if they ask nicely…