14 January 2019
A Week in My Life: Gary Fawcett & Lisa Nichols, Executive Creative Directors at TBWA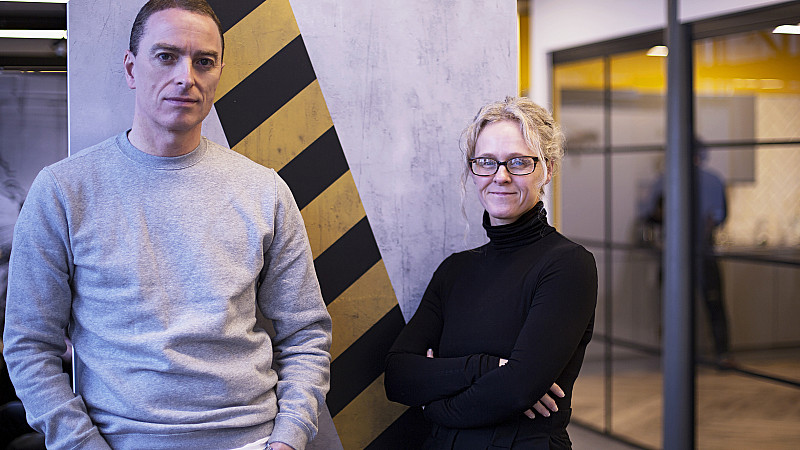 Gary Fawcett and Lisa Nichols, Executive Creative Directors at TBWA Manchester, jointly take us through their first full week back in work after the Christmas break. 
To suggest another senior media or creative figure for A Week In My Life, please email josh@prolificnorth.co.uk.
Monday 7th January
Yes. It's the dreaded first FULL week back in January.
Obviously, we begin by sobbing at the realisation that the booze-filled, chocolate-covered joy fest is over. But after eating leftover Christmas chocolate for breakfast (doesn't everybody?) the wailing stops and everything is back on a blood sugar even keel. Time to hit the road.
Mondays start with a Creative Department meeting. Half an hour to chat about work, pitches, creative opportunities, gripes (more Christmas chocolate) and we're ready for the week ahead, but first, we have to sign off a lot of creative briefs and catch up with our Head Of Traffic, Simon Webb. We work very closely with him to make sure creatives get the time they need to produce the best work for our clients.
The rest of the morning is spent in creative reviews. For us, this is the best part of our job, ideas are the reason we get up in the morning, well, that and paying the mortgage. Today's main focus is on a new Pizza Hut campaign, animation content for Bosch and the new TV ad for Alton Towers. TBWA\Manchester produce the advertising for all of Merlin's theme parks in the UK and Europe, so our teams are often out on shoots anywhere from Staffordshire to Lake Garda. That means a lot of concepts, edits and CGI for us to get our teeth into. Rollercoasters every day, it's not a bad job.
Monday lunch means the weekly Senior Management Team meeting. We spend an invaluable hour chewing over the business, workload, upcoming opportunities and comparing packed lunches. John Triner usually wins.
It gives the six of us time to enjoy the view from our new Manchester city centre offices. As the building used to be a cotton-packing warehouse, the walls are steeped in Manchester culture. The centre point is a giant grade two listed packing bench running the length of the building - this is where our creatives work like bees to produce great ideas and designs. Buzzin'. Sorry.
The afternoon is spent talking to a potential new client about an exciting opportunity. Fingers crossed and watch this space. More reviews and work chats and suddenly it's time to head off to our individual traffic queues and home to our second jobs, bringing up kids and cleaning up cat-sick.
Tuesday 8th January
As ECDs of an agency that aims to produce work that breaks into popular culture, it's part of our job to pack as much cultural stuff into our brains as possible. Sometimes useful stuff like kids names and dates of dentist visits fall out. Commutes are spent listening to the latest music, news and podcasts. Between meetings, we cherry pick our way through social media, content and the occasional cat video. Pretty much anything we can get our eyeballs on really. The toilet can sometimes be a much-needed quiet cultural hub.
This morning we're in a Disruption® session discussing strategic territories for an upcoming project. Disruption® is TBWA's ethos. It's the idea that you can't out perform a marketplace if you stick to its conventions. It's the barometer for everything we do and our workshops with clients are always pretty lively because of it. Now, we know that a lot of companies use that word to describe their thinking, but our network has trademarked it for many years. So y'know, DON'T use it.
Lunch is at our desks - a New Year resolution broken straight away - maybe 2020…
More brief signing, cultural toilet hits and then lots more creative reviews. Our days are very tightly packed courtesy of our traffic team. We try to stick to specific time slots otherwise a large unruly mob forms outside our door. Sort of like a doctor's surgery on speed. A large part of the afternoon is spent reviewing the new campaign for JD Williams - an exciting, fast-moving fashion retail brand we were proud to win last year. We're putting the finishing touches to the Spring campaign concepts... if only it was Spring and not dark at 3pm January. Oh it's not 3pm, it's actually closer to the end of the day and time to head to an evening research group and a little bit of enlightenment from an all-male audience. Then it's back home to catch up with our favourite disruption experts - the kids.
Wednesday 9th January
Ok it's hump day and as it's the first week in January we are still craving some sitting bloated in our sweatpants time. On the bright side, Gary is off to Cape Town next week for a shoot, something that he reminds Lisa of A LOT, so preparations and dirty looks are in order. This morning we are also having a very nice chat about new account win David Lloyd Clubs, and judging by the way our sweatpants don't fit, it's an account a few of us desperately need (not me – Lisa).
We won in a pitch against London agencies. As an agency not based in the capital, we offer a different kind of perspective. Manchester has always had an industrious underdog spirit and a no-nonsense attitude, we are hugely proud to be part of the thriving creative community. Over the last few years, we've been lucky enough to build a big team of super talented, amazingly down to earth creative people, including Designers, CGI experts, Copywriters, Art Directors, Content Creators, Editors and Motion Designers. This mix has meant we can cast the right people for each project and it's given us more creative freedom.
As ECDs, we encourage everyone to get involved; we don't do hierarchy, advertising bullshit or egos. For us, it's all about getting to the best piece of work possible, having a good time doing it, with a sizeable dollop of healthy competition thrown in.
Lunch hour (or dinner time) is spent in the Manchester Art Gallery staring in awe at the Martin Parr exhibition of the city past and present. Bloody brilliant. Hump day ends after an afternoon of appraisals - easy when you have a team of very nice talented people. We leave work after three clear days of eating nothing but fruit, protein, avocados and more protein. We notice that our bodies are going into a mild form of shock.
Thursday 10th January
We arrive in work after traffic hell... apparently 'someone' thought it would be a good idea to simultaneously dig up all the roads leading into the city centre.
Luckily at TBWA\Manchester we're pretty flexible with start and end times to the day. This is great for people with long commutes or young kids who take three years to brush their teeth.
First up this morning - more brief sign offs. We like to keep an eye on what's going in the department and make sure everything is correct and ready for teams to get stuck into. Control freaks much? But we're lucky enough to have super experienced seniors who we delegate briefs to as and when.
Then it's straight into a WIP meeting for Papyrus, a charity dedicated to the Prevention of Young Suicide. It's been our main charity for the last few years and we couldn't be more proud of the work we have done with them, and hopefully the young lives we have helped. It's always great to hear when the campaigns we produce make a difference and none more so than this.
The first question we always ask ourselves when looking at creative work is 'Do I give a shit?' and more importantly, will other people? It's nice to know that this audience actually gave a shit because it really matters. Today we're looking at new work for this year and where it's up to.
For the rest of the day, we divide and conquer. Something we perhaps don't do enough of. We've been a team for 23 years so maybe a bit of time apart is good. Lisa is off to London to present to clients whilst Gary is nipping out to a client presentation of an edit. And that's a wrap for Thursday.
Friday 11th January
Lots to do today so we're in early. The day starts with a review of the final edit of a TV commercial we made for the 'Bear Grylls Adventure' featuring the man himself. It's the latest new attraction from Merlin and looks exciting. No snake intestines were eaten in the making of the ad. And no one had to keep warm in the recently slaughtered carcass of an elk, so remarkably tame for Bear really.
Then it's a review of a cracking content film for Together Finance. This, along with a lot of our content films, has been created completely in-house. When it comes to reviewing work, our huge team of Content Creators and Producers make sure that we have plenty of screen time in our days. Next up, it's the latest piece of social content for Bosch, pass the popcorn. On second thoughts that's unhealthy. Pass the carb free, sugar free, fat free, taste free, joy free, vegan snack.
The rest of the morning is spent hatching creative plans for the coming year. Looking at the wall in our office filled with our best work from 2018 and also watching a reel of all the TV and content we made. You don't get much time to pause in this industry so it's good to stop for a few hours and muse on how and where we can be better. We are our own biggest critics and as a Management Team, we are always pushing to make the agency's output better and to improve the culture. One change we made last year was making the working hours more flexible. It's made a big difference to people's days and along with a 4pm finish on Friday, it's hopefully given everybody more time to soak up the Manchester culture. Or just to go to the pub. Whatever floats your boat. The agency has a vibrant social life and takes part in lots of inspiring social events. But not this week, there's maybe been too much vibrant socialising recently!
Lisa breaks out of the 'al desko' eating and has lunch in our very lively kitchen today. It's a good place to catch up with everybody and jealously drool over the burrito you wish you'd bought, or to break out and work on laptops or have meetings. We're lucky to have such a great space to socialise and work in.
Because Friday afternoon is short, we get our heads down and crack on with our regular JD Williams catch up with the wider team, a resource meeting for workload next week, (holidays to approve? Already?) a strategy meeting, 3 creative reviews, a week of timesheets to fill in and this article to complete... 
Done. Send. Quick look at the clock and it's 4.30pm. Sheesh. We made it through the dreaded first week back. All in all, it wasn't too bad.