28 October 2015
Knutsford Guardian overturns legal order to name charity thief Dad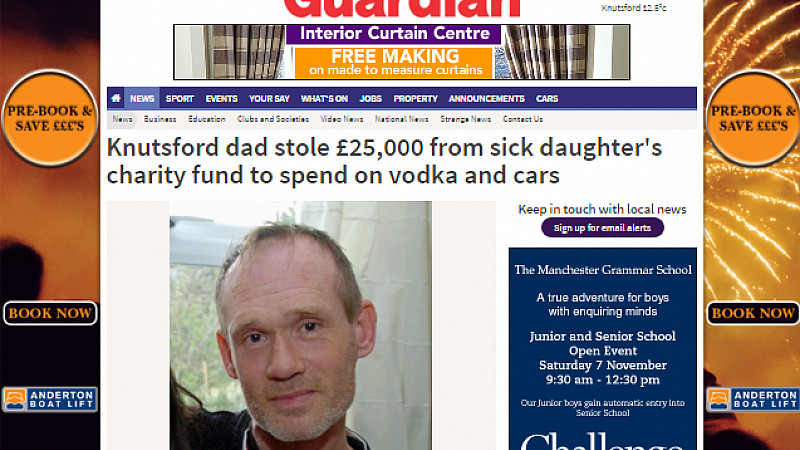 The Knutsford Guardian has successfully overturned a court order which would have stopped it naming a man who stole £25,000 from a charity appeal to raise money for his daughter's surgery.
It is thought to be the first successful challenge to section 45 of the Youth Justice and Criminal Evidence Act 1999, which replaced similar powers under section 39 of the Children and Young Persons Act 1933 earlier this year.
The paper, which is owned by the Newsquest group, discovered Simon Boam had admitted taking the cash in a magistrates' court but had been protected by an anonymity order covering his his young daughter, who suffers from Peters Plus Syndrome, making her blind in one eye, and his other children.
Boam subsequently appeared at Chester Crown Court, where a reporter was told reporting restrictions under section 39 were in place. The reporter challenged the restrictions in writing, only to have that appeal rejected by the Judge Nicholas Woodward. Boam was sentenced to 40 months in jail.
Newsquest's head of legal, Simon Westrop, prepared a submission for the judge based on section 39 no longer having effect in criminal courts and therefore making the restriction invalid. Westrop also argued the story was of great public interest and that many of its readers had donated to the fund.
At a hearing in September, Judge Woodward conceded the order was made under the wrong Act. A new order under the correct Act was introduced, protecting the daughter's identity but allowing reporting of the relationship so that Boam could be identified.
Knutsford Guardian ran the story, by Rachel Howarth, on September 30.