28 August 2015
Points North: Thom Hetherington, CEO of Buy Art Fair and The Manchester Contemporary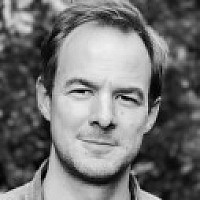 Each Friday, Points North gives a senior media figure a platform to air their views on a topical or relevant issue.
This week it's Thom Hetherington, CEO of Holden Media, Buy Art Fair and The Manchester Contemporary. Art and the creative sector have always enjoyed considerable crossover, but he argues that our cities in the North could be doing much more to take advantage.
Art has always been intrinsic to the media-marketing machine. Toulouse-Lautrec designed posters for the Moulin Rouge back in 19th century Paris. Andy Warhol created and in starred in iconic advertising of the sixties. Today, David LaChapelle is critically lauded for his photography's impact on both high culture and commercial media.
And of course slap bang in the Venn diagram-like sweet spot between art and advertising we have Charles Saatchi who has done more than most to nurture the overlap, utilising artists' work in his most high profile campaigns (notably Lucio Fontana's iconic purple slashed canvasses for Silk Cut) before becoming an early champion of the Young British Artists and establishing his eponymous gallery.
This crossover makes perfect sense, as art represents the rawest, most unfettered stream of creative thought and execution, and anyone wishing to excel in the creative industries should seek to immerse themselves in it, absorbing ideas and styles that can inspire their own projects.
Indeed that is why Sidney Bernstein famously covered the walls of Granada Studios in world class works by Chagall, Modigliani and Giacometti.
So why is art still a harder habit to acquire than it should be here in the North? To adopt industry parlance, 'our art ecology is incomplete' – we lack the breadth and depth of opportunities to engage with art that exist elsewhere in the world. We have a dearth of globally significant artists based in our region, and our cities lack an equivalent of the European Kunsthalles or "art halls".
Sure, we have some superb public galleries, from Liverpool's Tate to the Whitworth in Manchester, the Hepworth and Yorkshire Sculpture Park over the Pennines and the Baltic in Newcastle, but we still have too few commercial galleries and too few opportunities for people to actually acquire art, and to acquire the habit of acquiring art, putting a piece of art on the walls of their homes where they see it every day.
I'm proud that Buy Art Fair has returned great art to the walls of Old Granada Studios, and indeed has attracted and nurtured a broad community of art lovers and art collectors drawn disproportionally from the North's creative and media sectors. The fair also has a natural home at St John's, which developers Allied London will turn into a "combined arts, culture and creative business district". Sounds like the physical embodiment of that Venn diagram sweet spot.
But let's not stop there. In Frank Cohen we have someone recognized as one of the top 200 art collectors in the world. Wouldn't it be great if, as part of Manchester's cultural blossoming, we could find a way to permanently host and show his world class collection here in his home city? Art unlocks potential. Enmeshing challenging, thought-provoking and downright brilliant art into every facet of our lives would undoubtedly fire the North's already vibrant media and marketing sector into the stratosphere.
Thom Hetherington is CEO of Holden Media, Buy Art Fair and The Manchester Contemporary