26 May 2015
Man who killed himself at Dignitas clinic was "very calm and clear", says local journalist who did final interview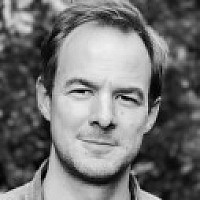 The local reporter who spoke to Jeffrey Spector just hours before his death in a Dignitas clinic has said he was "very calm and very clear" as he explained the reasons behind his decision.
The death of Spector, an advertising executive from Lancashire, has today reignited the national debate over assisted dying after he decided to end his life at just 54 over fears that a tumour in his spine could leave him paralysed.
Just a day before he took a fatal dose of barbiturates, the father of three gave an exclusive interview to his local paper, The Blackpool Gazette, where he expanded on the reasons behind his drastic action.
Blackpool Gazette's Gareth Vickers
He told the paper: "A man wants the best for his family, not for himself. I want my kids to enjoy their lives. If they cared for me and I got better, fine. But I won't. I know it sounds stupid, but it is the knowing there is an end to it."
Speaking to Prolific North this morning, Gazette senior reporter Gareth Vickers said the story had originated last Wednesday from a local freelance reporter, Dave Graham.
Vickers went round to Spector's family house in St Annes on Thursday and spoke to Spector, who was already in Switzerland, over the phone.
Asked why he had wanted to speak to the press, Vickers said: "Jeffrey wanted a bit of control over what was said in the media. He didn't want the scenario where things were misconstrued after the event. He wanted to get his point across and have control over what was said through the paper."
Vickers said he even received a text from Spector on Friday morning, the day of his death, asking him to make sure that what was published was "the truth".
Vickers added that Spector had sounded very calm when he spoke to him.
He said: "He was very calm and very clear. He had been a member of Dignitas for six years, so this was not a decision he had taken overnight. He got his points across in a very structured way and was in control.
Jeffrey Spector's (front right) final meal with his family
"He mentioned a few things about operations he had had, about how one had left him in bed for two days. He was very much into sport - running and swimming - and the thought of not being able to do that worried him. He worried that the aftermath of any operation could leave his family in a difficult decision.
He added: "He said that some people might wait to the 99th minute out of 100, but that he was choosing to go at the 60th."
The story has been heavily covered by the national newspapers, and Vickers added: "It's a big story and a big talking point. The nature of it captures the national interest and is a topic that people have strong views on, for and against. Jeffrey's story throws it back into the public domain once again."