14 January 2015
Revealed: The true cost of advertising for local councils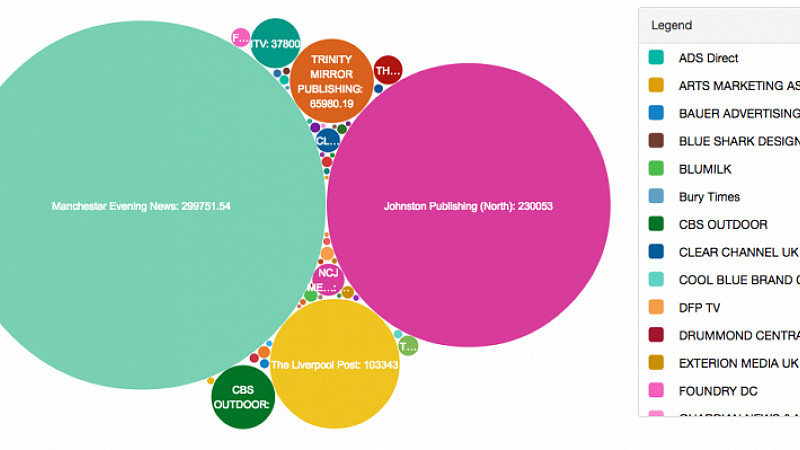 Manchester City Council has paid out more than £1.7m to news organisations to publish its public notices during the past five years - and nearly all of it went straight to the local paper.
The Manchester Evening News along with other Trinity Mirror owned papers in the north are revealed as the biggest earners from the statutory notices system which sees cash-strapped local authorities required by law to place the advertising.
As we disclosed in part one of this investigation last week, millions of pounds is being spent by town halls at a time when local authorities are also being asked to make cuts to frontline services.
Johnston Press - the publisher of titles including the Yorkshire Post - also earned significant revenues from the set up which is now the focus of attention from local government minister Eric Pickles.
Leeds City Council alone spent £772K on statutory notices with the JP group between 2010 and 2013.
A chart visualising some of the FoI data from 2013/14
In a series of Freedom of Information requests, I looked at six of the big city councils - Manchester, Liverpool, Leeds, Sheffield, Middlesbrough and Newcastle. As well as big differences in the amount spent, the responses received varied greatly too with some of the councils being unable to even provide full breakdowns of their spending.
Some of the other findings:
Newcastle Council spent a total of £1.9m on all forms of advertising over the five years but were unable to separate out the statutory notices element. The financial services assistant director said he thought the local Trinity Mirror papers would account for 'the bulk' of that spend.
Liverpool Council spent £401,869 on statutory notices between 2011 and 2014 with the majority spent on Trinity Mirror titles.
Sheffield Council could only provide overall figures and spent a total of £756,038 in advertising and publicity in the last financial year.
Leeds Council spent £54,600 on radio and broadcast ads in the 2013/14 financial year.
Middlesbrough Council refused the FoI request on the basis it would take too much time to work out the breakdown of suppliers and statutory notice payments. They did however confirm they spent a total advertising budget of £2.24M over the five years.
Click here to see the full list of media suppliers who received money from local councils in the last financial year and interrogate the data further via an interactive chart.
Both Trinity Mirror and Johnston Press were contacted to comment on these findings and each declined to do so.