08 October 2014
Documentary maker publishes little-known war history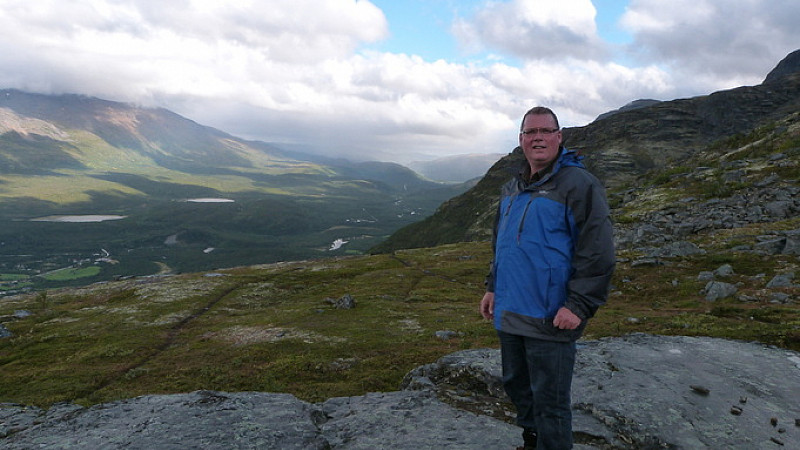 Hunt at the top of the Lyngen Line defences near Storfjord, Nord-Troms.
Manchester-based documentary producer Vince Hunt criss-crossed the Arctic gathering interviews for his new book about the Nazi destruction of northern Norway, the first to tell the story in English.
Fire and Ice - the Nazis' scorched earth campaign in Norway tells how the far north of Norway was destroyed by Nazi forces retreating in the face of a military onslaught by the Red Army in October 1944. Fifty thousand Norwegians were forcibly evacuated from the region, returning after the war's end to find their homes and possessions reduced to ashes.
Hunt, who started his career in journalism as a reporter on the Altrincham and Sale Guardian before joining BBC Radio in Manchester in 1990, followed the trail of the German forces high into the Lyngen Alps near Tromso.
He tells the stories of Soviet PoWs worked to death building bunkers and gun positions for the Nazis to repel an Allied invasion – which never came. Starved and treated brutally by their captors, some PoWs resorted to cannibalism. The Lyngen Line positions have been shrouded in secrecy since the war, as they were then used by NATO troops in the Cold War.
"The war in the north of Norway is a forgotten history," said Hunt, who now freelances from Manchester. "The Russians liberated the north six months before the rest of Norway was freed. The north of Norway was crucial to the German war effort in the Arctic north, and the Allied convoys into Murmansk had to run the gauntlet of German bombers and submarines operating from there.
"I wrote the book because there's nothing about that period in English, but I was surprised at how dark the story is. The brutality suffered by the Soviet PoWs is terrible. I even went to the Public Records Office in London and looked up the British military records to be certain of the facts. One PoW camp was little more than a place where sick prisoners were dumped to die.
"It's hard to imagine terrible things like this happening in such a beautiful landscape, more commonly associated with Midnight Sun and fjords. But because the Cold War followed so quickly from the 1945 liberation, the Soviet Union became the new enemy, and this history has been overlooked."
In 24 years with the BBC Hunt won seven Sony awards and worked at Five Live, BBC World Service radio and TV and made documentaries for BBC Radio 2, 4 and 1Xtra as well as for Smooth Radio, working across Europe, America and Africa.
* Fire and Ice - the Nazis' scorched earth campaign in Norway is published by The History Press, price £20, to coincide with the 70th anniversary of Hitler's order for a scorched earth retreat from the north of Norway at the end of this month (October 28, 2014).