20 March 2013
Leeds lifestyle title The City Talking moves into print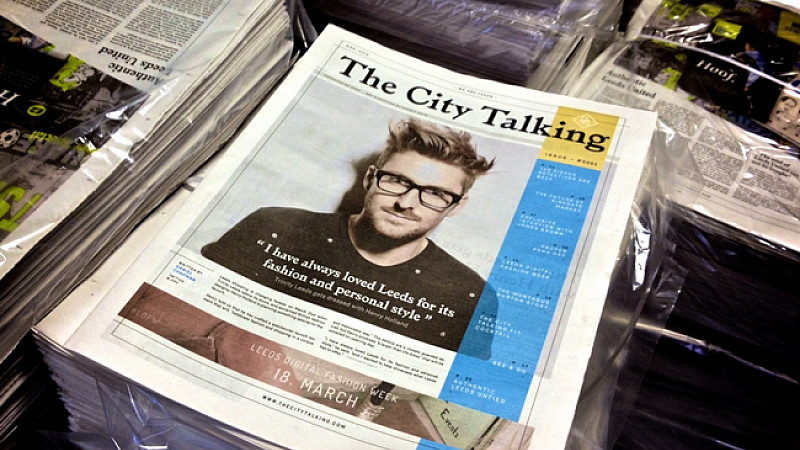 Hebe Media in Leeds is to create a print version of its 'The City Talking' media brand for free distribution across Leeds city centre.
Hebe is planning a modest launch with just 20 pages (full colour) in the first edition which will have a print run of 10,000 copies.
In common with its sister web edition, the new title will focus on 'life and style' and the first issue includes interviews with fashion designer Henry Holland, publisher James Brown and Leeds band The Pigeon Detectives.
Hebe launched The City Talking as a Facebook page three years ago and a dedicated site for the title was launched in May 2012.
The site now claims to reach over 60,000 monthly readers, hitherto online.
Lee Hicken, the MD of Hebe Media said: "We wanted to chat about things that the local media, speaking frankly, were not talking about. As the number of people liking the page grew into the thousands we knew we were on to something."
"However we now want The City Talking to be a truly multi-platform experience and mobile and print were always on our agenda. The timing seemed right and working with some amazing partners and storytellers sped up our decision to move to the next level."
Lee Hicken
The decision to expand the operation's scope and reach was helped last year, when the company secured investment from the the UK innovation agency, Nesta, to develop a mobile news service for Leeds. The outcome of that investment, a mobile app named Solomon, is expected to go live this May.
To coincide with the print announcement, the website has been relaunched with the focus on mobile delivery. Simon Zimmerman, who has overseen the site relaunch, said that: "With Solomon we wanted to design something totally different, built from the ground up, and designed for mobile. We think it's going to redefine how news and views about life in Leeds are shared and consumed."
In addition to his interest in Hebe Media, Hicken also has an interest in the Made in Leeds consortium which recently won the local TV licence for Leeds.
The new station is hoping to be on air before the end of this year.