31 March 2015
Love unveils gravity-defying campaign for Berghaus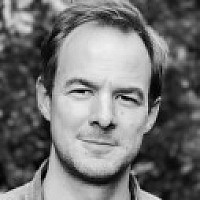 Love has created an advertising campaign to launch the new spring/summer 2015 range for Berghaus.
The campaign showcases the outdoor brand's new Hydroshell collection of jackets.
Love's 'Defy Gravity' creative for Berghaus
For the first creative, 'Defy Gravity', Love focuses on the lightness of the HyperSmock jacket, positioning the jacket floating mid-air with only a climbing rope anchoring it to the ground.
In the second route, entitled 'Rain Supreme', Love shined laser lights onto the jackets to create a stylised mountain range backdrop in an urban, hanger-style environment.
The resulting triangular laser beam in the foreground both illuminates the jackets and gives them the appearance of levitation. Love then pumped a water vapour through the laser beams and across the jackets to showcase their waterproof properties.
"Our aim was to elevate the creative production values to reflect those of the product," said Dave Palmer, Love's executive creative director.
"When you look at the competition, their advertising tends to fall into two camps; either a clunky cut-out of the product against an outdoor backdrop or action shots showing the product in use by the wearer. We wanted to create something that stood out from those conventions."
Angela Turley, Berghaus' marketing communications manager (UK), added: "It's always a tough challenge to have one creative that appeals to the wide range of Berghaus consumers, from occasional hill walkers to serious mountaineers.
"But Love's creative cracked it whilst enhancing both the brand and products values."