01 October 2014
Milkshake's Olivia becomes face of children's milk campaign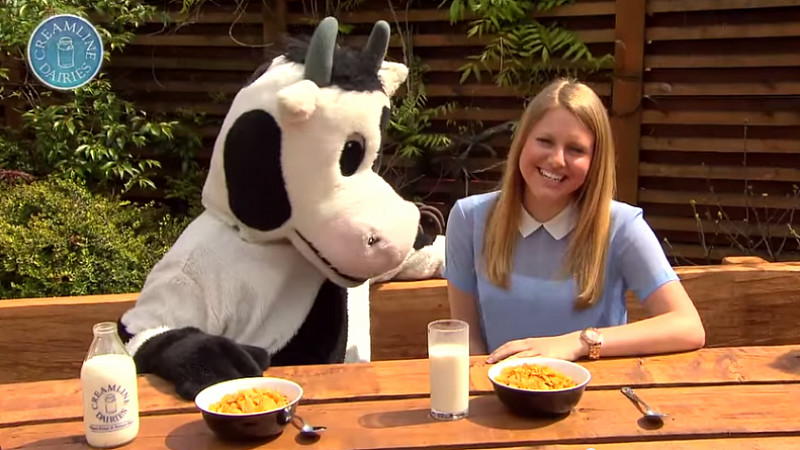 Conker Communications has launched an educational film using popular children's TV presenter, Olivia Birchenough of Channel 5's Milkshake, as the face of the film.
The West Didsbury based PR and marketing agency joined forces with Acrobat Television, to create a lively educational video for Manchester's Creamline Dairies.
As part of Conker's ongoing community-engagement communications strategy for Creamline, the agency commissioned Acrobat to produce a video that would educate children about milk's journey from the cow to the breakfast table and reflect Creamline's commitment to supporting local farmers.
Officially released to mark World School Milk Day on 24th September, the Creamline clip was previewed by pupils at Didsbury C of E School this week. Kickstarting Creamline's primary school information initiative – which sees Conker Communications rolling out a series of interactive Creamline school assemblies across Manchester – the Didsbury assembly was warmly received by the young audience.
Conker Communications MD, Sarah Wallwork, said: ''Creamline has always been a really active part of the local community and we're pleased to be able to help raise awareness of the dairy as a caring, local company. The film was a great way to launch the community engagement programme - the power of video can't be underestimated and it makes a hard working, SEO friendly resource for the Creamline website too.''
Director at Acrobat, David Hill said: "We were delighted to be chosen to work on this campaign and are thrilled with the finished result. It was great working with Creamline, as it continues to push forward its involvement within the local community, with video content being an excellent vehicle for conveying its key messages and adding engaging content to the new Creamline website."