27 January 2014
Soreen celebrates anniversary with Sunny Thinking book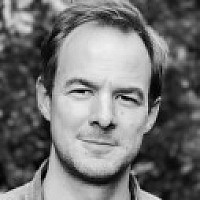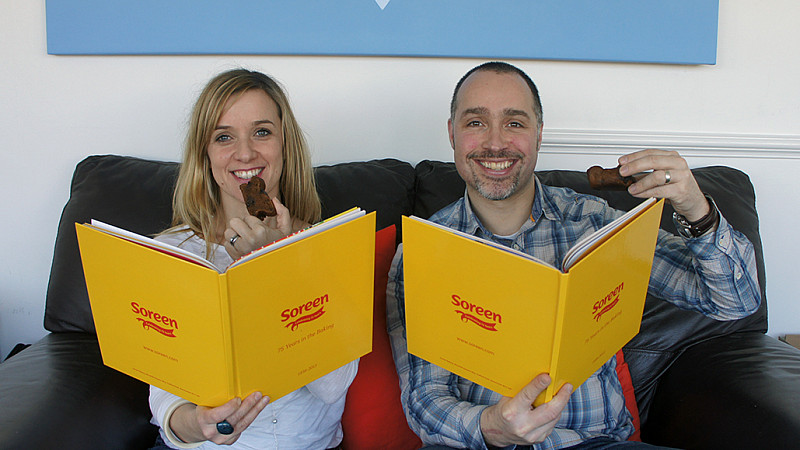 Creative marketing agency Sunny Thinking has produced a commemorative 75th anniversary coffee table book for Soreen.
The limited edition publication tells the story of the iconic malt loaf, which was first produced in Manchester in 1938 by founder John Sorenson.
Scribble's Helen Dugdale with Jonathan Reed of Sunny Thinking
The book brings the story to life with original imagery and photographs that span seven decades, including an image of the actual little black recipe book that contains the original ingredients for the still top-secret recipe.
Jonathan Reed, managing director of Sale-based Sunny Thinking, said: "Soreen is a favourite at home and in the office. It's a brand we've all grown up with, so it was fascinating for the whole team to learn about how the little loaf has evolved to what it is today."
Lucy Ardern, assistant brand manager at Soreen, added: "We're proud of our heritage and Sunny Thinking has produced a wonderful publication to help us commemorate our anniversary. It tells the story of 'Soreen – 75 years in the baking' and how we've grown from a family-run business in the back streets of Manchester to an international brand in 2014. We are delighted with it."
Sunny Thinking teamed up for the project with Hale-based creative agency Scribble.
Helen Dugdale, managing director of Scribble, said: "We've collaborated with Sunny Thinking on many occasions, including the Soreen cookery book, and this project is a crystal clear example of how our warm and friendly words are a powerful mix with Sunny Thinking's creative designs."
Sunny Thinking was recently appointed to a brand and marketing job by pushchair manufacturers Ruk-Bug.