18 September 2013
What I've Learnt: Nick Porter, Fresh Group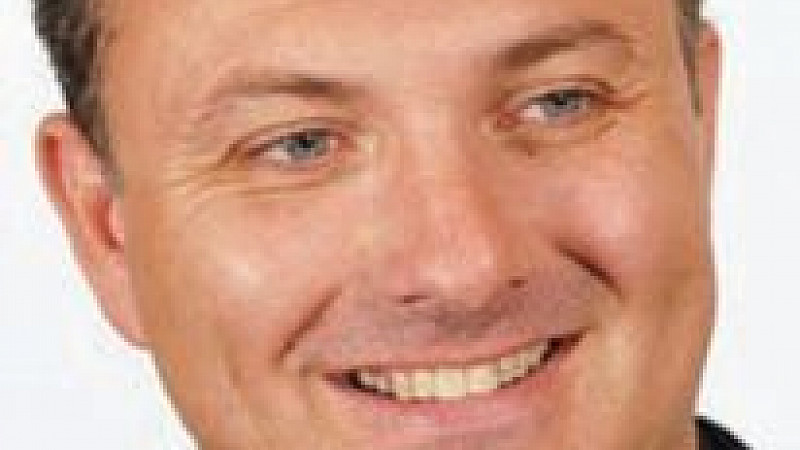 Nick Porter
"You wouldn't let me project manage anything" proclaims Nick Porter. But when he adds "My job is to listen" what he is saying makes more sense. He is after all chairman of £11m turnover Fresh Group whose principal income is derived from event and project management. Nick Porter is the latest subject matter in our popular series:  'What I've Learnt'.
STOP PRESS: 4 June 2014: Fresh Group completes MBO
(Earlier profiles include Nicky Unsworth/BJL, Rob Morrice/Stein IAS, Cat Lewis/Nine Lives Media, Neil McKay/Lakestar McCann and Jim Smith/Clear Communications).
The Fresh Group styles itself as 'probably the most joined-up agency you will ever meet' .
There is an increasing emphasis on design, video, digital, print and advertising but the company was born out of events and the majority of its current sales are still driven by the events and live communications campaigns it manages for companies across the UK and increasingly overseas.
Clients include M&S, DFS, Brother, United Utilities and Halfords.
For the year ending September 2012, parent company Fresh Approach (UK) recorded sales of £11.2m and ptp of £832,000. For the year about to end, Porter said he expects sales to end up around £14m with ptp of £850,000. The effective stand-still in profit is a consequence of an acquisition and increased capex over the year he points out.
Forty six year old Porter owns Fresh along with Julie Besbrode.  The pair started the company in 2004 having previously worked together.
Porter has all the trappings of a fulfilled man.
A chunky stake in a business worth several millions, property in the UK and Majorca - his own and separately also as a developer - and a new found keep fit drive which has recently seen him bike across the UK for charity.  Scratch the surface however and you quickly unearth a key factor which has contributed to his desire to succeed: school, he openly concedes, scarred him, before playfully adding that as an adult, supporting City, he's had to deal with disappointments of a different kind...
It all started in Luton...
Porter was born in Luton. His father was a salesman for Provident Insurance. In one of many seemingly curious twists of fate in Porter's life, at a later stage he joined a company whose office in Sale was the same office that his father worked in when he relocated up from Luton to the North in the 70s.
His parents were a great inspiration to him he says.  "Me and school never got on and I came away with very little but my father always backed me up."
"There's one day I'll always remember from school, careers day.
"Most of my friends spent some time with the careers master discussing what they'd like to do in life and what their strengths might lend themselves to. My session was brief and to the point. I was simply told 'Porter, take the first job you're offered'."
That brutal and – in hindsight – overly cursory view of his abilities taught Porter his first lesson in the school of hard knocks he says, "I learnt to turn a negative into a positive."
The objective set out for him at school by his teachers was to get a diploma for which he needed two O levels.
He failed and took up a YTS course with Montage Photography in Ardwick for six months following which he got his proper job as an assistant with Electromedia in Cheadle, where he stayed for four years.
His boss there, Robert Hiscox, was a "hard taskmaster with not much patience but it was the best training I could have had. I had to grow up quick and live by my own mistakes. I learnt the hard way."
Here come Macs
He enjoyed his time there creating slides and working with rostrum cameras but the arrival of Macs saw a "revolution" in production techniques. Slides that had taken a day to create now took 10 minutes to make and he decided to move on.
He also was privately still hankering after a job in sales, to emulate his dad, and an opportunity arose in 1990 to become a sales exec for the Manchester Pitch Co (MPC), a company owned by what was CAS (Commercial Advertising Services) in Didsbury, south Manchester.
"I had an incredible boss there in Christine Oakes. She took me under her wing and we remain friends to this day. And her business mantra of 'quality, service and price' has remained with me to this day."
He loved the job as his knowledge of production matters was enhanced by a much broader learning experience but unfortunately it didn't last long. The recession of the 90s came along and CAS was battered by several external factors, not least of which was Leyland Trucks going into administration leaving CAS with a substantial six figure media debt.
From 25 staff in 1990, the headcount had dropped to five by the time Porter was made redundant.
"It was horrendous" he recalls. "The first 48 hours were awful. I drove to my dad's house and burst into tears.
"But as the days went on, I fluctuated between feeling sorry for myself at having the rug pulled out from under me when I was so happy, to thinking, actually, this is shit or bust for me."
Deciding it was the former, he approached a former colleague at Electromedia, Nigel Griffiths, and they set up an independent slide production company, Two Men and a Mouse.
Ownership was 50/50.
Porter acknowledges that the economy was at that time (1992) in tatters but "business life still needed to carry on and Nigel and I believed there was a market in supplying slides at a more cost-effective rate than the more established players were offering."
Porter and Griffiths pitched their price 20% below their competitors and in addition, by working from home initially, before moving to a "very modest" Stockport base, their costs  were "almost negligible."
Orders came in by fax with the required text detailed on said faxes. Within a few months, they were receiving between 200 to 300 faxes a day, "it was our golden machine" recalls Porter.
"We had an incredible five years. But looking back, even though I was even then thinking of ways we might develop the business and enhance our offering with PR, advertising etc, we didn't and that was a mistake. We didn't develop the business. We both had nice cars, houses and life styles. Neither of us had kids and we lived it large. We didn't invest. We stopped looking forward."
And then, just as everything seemed so good, Power point arrived in 1996 and the "fax machine stopped ringing."
The business says Porter "fell apart. We had six staff and we advised them to find new jobs which they did leaving Nigel and me."
Knowing their adventure was at an end, they approached events and production company Henderson Grime Associates and landed jobs in sales and design (Nick and Nigel respectively).
I kicked myself every day
"Although I was pleased I had a job" says Porter, "inside I was distraught. From being my own boss to reporting to someone else. I kicked myself every day."
The blow, fortunately, was somewhat softened however, by learning around the same time as joining HGA, that he was to be a father.
"So it was then a case of getting my head down and getting on with it. They were a lovely crowd at HGA and again I still see Michael and Ian a couple of times a year and we compare notes and exchange opinions."
While getting his head down, he found himself building up a larger contact book than he'd ever done previously and during the course of networking duties, he was approached by newly-established PR and marketing agency Paver Downes to join them to set up a new events division.
His head was turned he admits. There was lots of excitement surrounding the Paver Downes offer at the time with talk of an Ofex (a former secondary market) float.
So he joined and enjoyed the ride as sales grew rapidly to over £2m. But although he looks back at his time there with fondness, particularly for those he worked with, he increasingly came to resent the time required to travel across to Liverpool and the time subsequently he had to spend apart from his young daughter.
"My work life balance was askew."
So after initially turning down an offer from the MD of Airplay in Sale to join as the company's new sales and marketing director, three months later he succumbed, the deal finally being struck when the offer was extended to include a seat on the board, but critically no equity.
He joined Airplay when it had sales of £2.8m in 2001. When he left in 2004 he had overseen a rise in sales to over £5m. Over the course of those three years, he steadily shifted the company's sales focus from 100% on music sales to embrace events and video too.
Although he prospered at Airplay, Porter didn't enjoy the culture. "The way the business was run was not for me." He is reluctant to expand on the matter.
Matters beyond the control of Airplay's owner also came into play.
In 2003, he decided he wanted a new 'life project' and commenced the building of his own house in the UK and decided to double his challenge by buying a house in Majorca.
"I thought about my goals in life and I decided two things then: I wanted my daughter to do what I had never done, succeed academically and on a more basic level, I wanted a house overlooking water."
Arguably much more life changing however was the unexpected death of his old friend and former business partner, Nick Griffiths, who died of cancer in 2003 aged just 42.
Life's too short Nick
"Twenty four hours before he died I was with him at Christie's and he said to me: 'Life's too short Nick – what are you doing working for someone else?'."
Julie Besbrode
As he reflected on his working and private life, he began discussing these issues more closely with an Airplay colleague who had joined the company around the same time that he had, Julie Besbrode. "I thought she was phenomenal" recalls Porter. "Her project and account management skills were excellent and balanced out my weakness in those areas. We got on like a house on fire."
In 2004, Airplay faced unexpected financial issues. Two waves of redundancy took place and when notice of a third round filtered out, "I put my hand up."
He rang his former boss at Electromedia, Robert Hiscox, and asked him if he wanted to sell the company. Electromedia was turning over £180k at the time and having taken redundancy from Airplay, he persuaded Besbrode to hand her notice in and join him in the acquisition of Electromedia through a newco which they'd own 50/50.
As it turned out, Porter was not aware at the time that Hiscox was also discussing the sale of his company to another party and while waiting for negotiations to conclude, he and Besbrode simply got on with delivering events for other clients.
Porter and Besbrode's purchase of Electromedia never took place but it didn't actually matter ultimately as they watched their newco (Fresh) generate sales of £180k within the first three months and £1.4m within the first year.
Fresh's first project was managing an event in Budapest. The whole thing was run out of Porter's study at home with a "woeful internet connection."
Further jobs came thick and fast from big brands including Matalan and Makro.
Porter recalls with a smile that one of Besbrode's cutest ideas was not to state on any documentation the starting date of Fresh's existence so that potential clients were never aware of how young the company was. They – correctly – believed that clients would assume that they must have been an established business to be handling such clients, saving them from the 'never getting fired for hiring IBM syndrome'.
We almost froze
And then came what Porter said was probably the company's defining moment.  They took a call from M&S to meet to discuss a new brief. Half an hour or so into the meeting, having discussed the mechanics of the brief and how Fresh might deliver it, the matter of cost arose and the client almost casually revealed that the value of the tender was a seven figure sum. Porter said he and Besbrode almost froze.  They had to contain both their unbridled joy and downright fear at the size of the task being offered to them. But contain they did and they won the tender and Porter says M&S has remained a long-standing client.
Within a few months, the pair had outgrown Nick's study and they moved into an office in Altrincham with eight staff.
The business flourished and recognition spread when they won the Young Business of the Year category at the MEN Business Awards in 2005.
In 2007 they moved to Cheadle when they bought their current building. Fitting out its 8,875 sq ft of office space cost over £300k says Porter.
The downturn in 2008 slowed the company's sales growth significantly at a time when the company was increasingly exposed with higher fixed and floating costs. Porter admits the relationship with the bank became more fraught than they would have liked but a subsequent change in their banking relationship and a recovering economy saw them through what was temporarily a painful period for the fast-growing company.
The business has subsequently grown primarily organically although there have been a couple of acquisitions with mixed results. One which Porter is keen to discuss though is the one that took place earlier this year when they bought Igloo "for a nominal sum" which will bring a further £700k of sales to the current year he says. Igloo is a bolt-on acquisition to what is still a fledgling new operation for Fresh – exhibitions.
Three years ago they restructured the business.
Having been joint MDs, Porter became chairman, Besbrode became the chief executive and a new managing director, finance director and operations director were promoted into those roles. "I admire so many people in this company" says Porter. "We've learnt that to develop the company, you've got to develop the people and I believe we are doing just that. Julie and I are driving the business supported by a team of creative directors who are second to none."
As to the future, Porter simply says they'd like to build Fresh further.
There have been knocks on the door from potential acquirors but "as it stands we have no immediate plans. "
However, when pressed on the subject of management and staff incentives and equity - which he and Besbrode still own entirely – he would not be drawn leading to a conclusion that one might reasonably make, given his emphasis on people empowerment,  that some of his co-directors might be discussing re-mortgages with their bank managers.
And what's his advice for other would-be entrepreneurs?
"Well, I'd prefer to answer that in another way. What I do know in my case is that the two best decisions of my working life were to set up Fresh and to set up Fresh with Julie."