22 January 2013
Will the Skinny find a long-term new home in Liverpool and Manchester?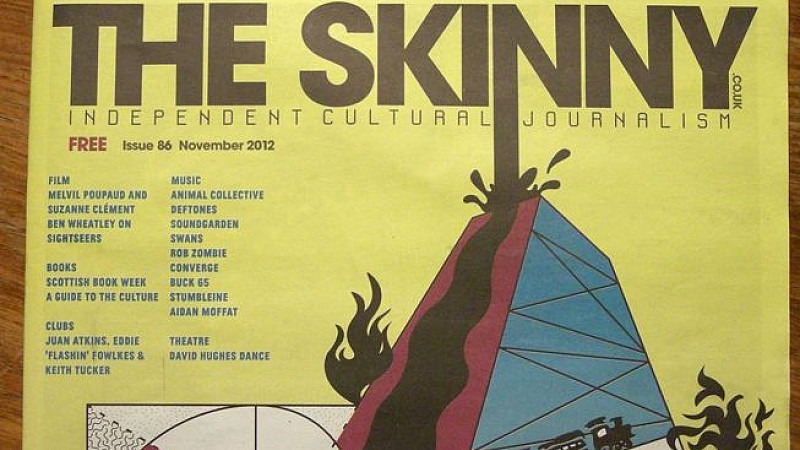 The Skinny, which lays the claim to be Scotland's largest entertainment and listings magazine, is planning to launch a dedicated monthly magazine for the North West this April.
The core editorial focus will be on Manchester and Liverpool and the company's plans are ambitious as it intends to hit the streets with a monthly print-run of 34,000 copies.
The independently-owned publishing company was founded in Edinburgh in 2005.
It was launched as a free title in competition with Scotland's long-established paid-for entertainments and listings title, The List. The two still co-exist quite comfortably it appears with the latter selling over 10,000 copies a month, complementing the Skinny's much larger free distribution.
The core area for the Skinny was, and remains, Edinburgh, Glasgow and Dundee.
In Scotland the 72-page title has an ABC audited circulation of 32,147 copies a month with a claimed readership of around 160,000, who pick up their copies of the title from 650 outlets: a network of cafés, bars, libraries, cinemas, restaurants and shops.
The Manchester edition will be available through a similar number of outlets but the publisher Sophie Kyle is aiming for a slightly higher ABC figure, at 34,000 copies a month.
Kyle says the new title will feature music, art, theatre, comedy and club listings for the two cities and other key centres, together with a broad mix of interviews and reviews of events and artists' work that Kyle suggests get overlooked in more 'mainstream media'.
Kyle is currently spending much of her time sorting out the new regional office which will be in Manchester.
An editorial team of three full time journalists together with several freelancers covering specialist areas will be based in the office along with a couple of salespeople.
Kyle is hoping to announce the full line-up of the team in February.
A page in the Scottish title costs £1395 but the page rate for the North West hasn't yet been confirmed. However, the title is hoping to make more use of its existing relationships selling 'national' packages covering both titles to national advertisers such as Jack Daniels and Absolut Vodka, both of whom are frequent commercial supporters of the Skinny in Scotland.
Core target commercial audience is direct advertisers
Sophie Kyle
The Skinny's core target commercial audience in Scoland is largely a direct one of venues and organisations, rather than through media agencies and indeed, a call made by Prolific North to one of Scotland's leading media agencies generated a puzzled response when quizzed about how the Skinny was faring and received north of the Border.
All content in the magazine will be uploaded onto the website every month to co-coincide with the print publication.
The Skinny describes its (Scottish) readers as 'smart and savvy' and the company's media pack says that the majority of readers (69%) are aged between 16 and 35 with roughly half in full time employment and a further 25% being students.
The title is likely to encounter a mixed response to its launch in the North West.
Certainly no other stand-alone title in recent years in the North West has had anything like such a substantial print run.
Time Out ventured into Manchester into 2006 but only one print edition was produced although a dedicated Manchester web site is still updated.
The late-lamented listings title, City Life,  was selling under 10,000 copies before its owners MEN Media opted to shutter it initially before bringing it back following a rebrand of the earlier 'Go' section, as a weekly free insert 'City Life' in the paper's Friday free edition.
CityLife, in all its guises, is likely to be the Skinny's main competitor, with not only the Friday print edition  to contend with but also over 250,000 unique monthly visits to the CityLife web site.
MEN Media also distributes a further 10,000 plus copies of the weekly property (residential) title Urban Life in the city centre and recently the title has undergone a change in direction with more emphasis on a 'City Life' presentation.
Mike Barnett, press officer at the Library Theatre Company, said: "Manchester has missed a good quality, authoritative and reliable what's on guide in print for a quite a while now, and I wish them well."
Elsewhere in the city there are several niche print titles such as Chimp and the recently launched monthly fashion and lifestyle title La Vida and Twenty Two, a new, bi-monthly magazine which launched last October. In addition to these primarily print-led titles, there are also a myriad of online titles, from Now Then Manchester to Kate Feld's highly-regarded Manchizzle.
The national weekly title Shortlist, which is handed out together with several of the UK's larger regional dailies, also carries regional information on both Manchester and Liverpool on its website.
In Liverpool the Skinny will also face fierce and entrenched competition from both 'old' and new media.
Trinity's website Liverpool.com has by far the largest volume of traffic on Merseyside for its entertainment and what's on information while both its print titles, the Echo and the weekly Post, carry extensive lifestyle, cultural activities and reviews and going-out guides.
Other competitors include Lifestyle Monthly, which has been publishing since 2008 and claims a readership of  45,000, the more 'upmarket' His and Hers magazine and the web-only Seven Streets.
It's a challenging time to be launching such an endeavour and some commentators have questioned how the Skinny can make it work when a publisher with the resources of Time Out couldn't.
Scale and focus is possibly one answer.
Time Out has titles across the globe and requires a certain critical mass to make its local titles work and back in 2006, sales of the Manchester edition at just under 10,000 just didn't stack up commercially for the group.
Although Time Out is still largely a paid-for title wherever it is published, it too has now adopted where appropriate the free model route and last October, having seen sales of the weekly London edition fall to below 50,000, the title was relaunched as a free publication with a 300,000 distribution.
The Skinny's resources cannot compare to those of Trinity in Manchester and Liverpool, and it is there that the new title's commercial battles are likely to be most keenly fought.
But elsewhere in the North West, as Barnett has suggested, the Skinny's dedicated team of full time local journalists and salespeople, supported by a successful production and commercial hub back in Edinburgh, may well provide just the sort of platform that the rest of the fragmented market can only envy.