Zeal is a full-service creative and digital agency that works solely with ecommerce start-up and scale-ups.

Founded in 2010, Zeal works with a wide range of clients such as Jorvik Tricycles, Yonda Wetsuits, Grubby, Gym King, Fenetic Wellbeing and Bed Guru.
Back in 2018, Zeal announced its plans to increase its presence in Leeds from its Holbeck base to Bruntwood SciTech's Platform.
We find out what happens behind the scenes of Zeal's 5,000 sq ft space in Leeds…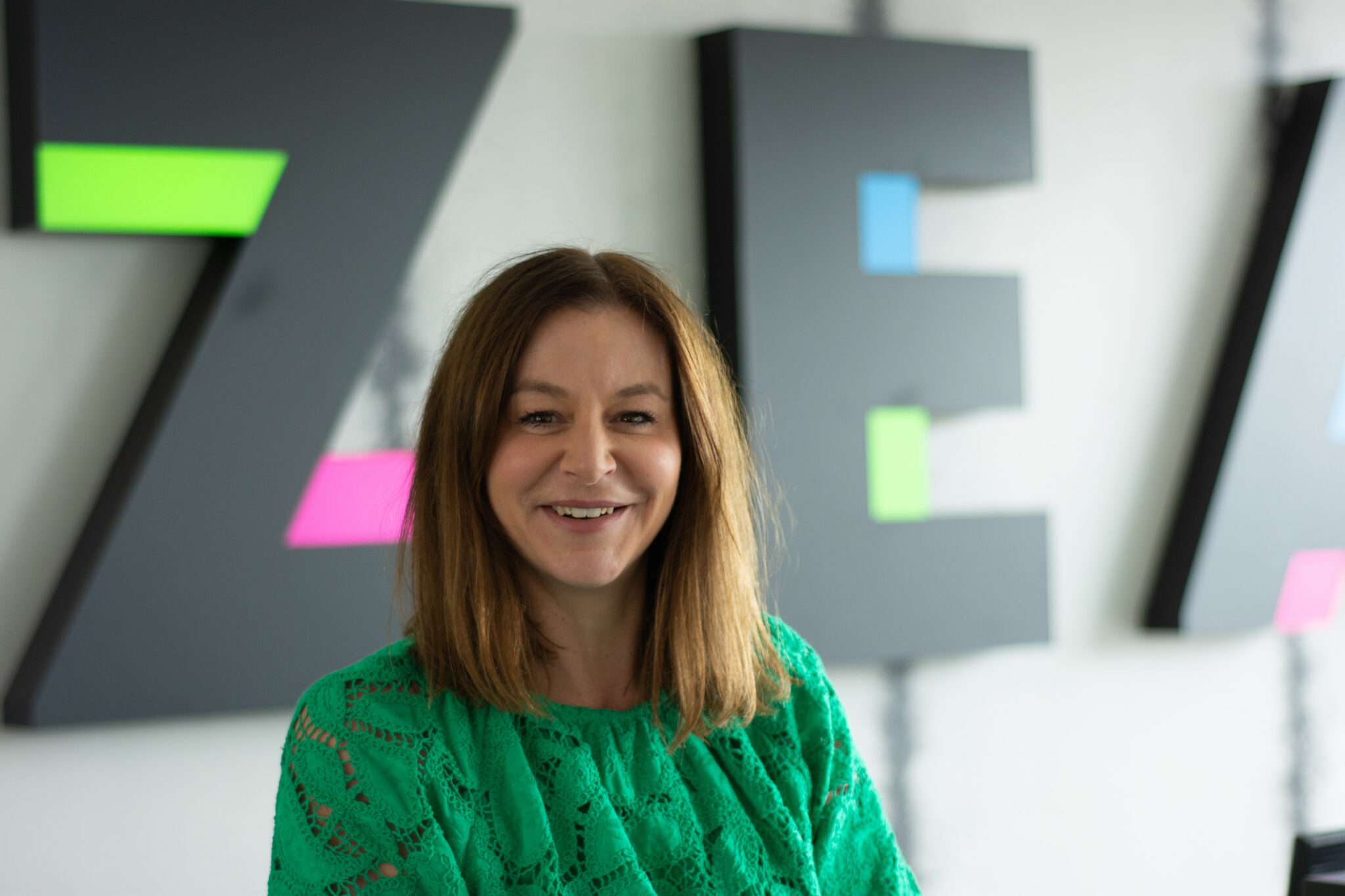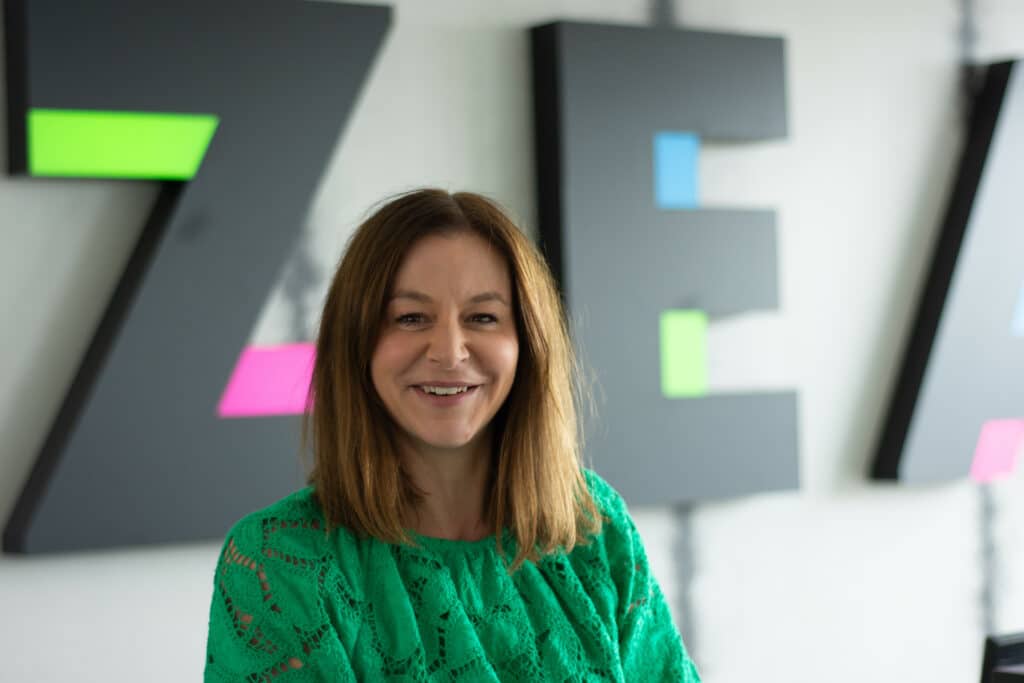 Jane Slimming, CEO at Zeal, introduces us to the Leeds office…
"We moved to Platform in Leeds five years ago to accommodate a growing team. We chose Platform for its location, its support system, the fact that it's a SciTech building and the views from the roof terrace are well posh."
Where is it?
Platform, New Station Street, Leeds. It is located over Leeds train station right in the heart of the city centre so ideal for staff, clients and visitors to get to.

How big is it?
5,000 sq ft.

What happens there?
We work in the office Tuesday, Wednesday and Thursday, so it's very collaborative on the days we are all in. It's always busy with Internal cross-department meetings and welcoming clients. There is always something going on.
Often the office is used for both internal and external events (bi-folding doors allow us to have a large area for networking events and social things like the Zeal pub quiz and singo bingo.) Quarterly all agency meetings take place where we like to share successes, key learnings and go over results.
Podcast recording, product photo shoots, TikTok filming and a whole host of content generation activities all take place onsite, so no two days ever feel the same.
What sort of work goes on?

Creative, development and marketing all happen here. And everything else in between!

Zeal creates distinctive and unified brands, campaigns, websites, apps, and platforms – for businesses that need simple, scalable, and standout experiences.

Our clients are the companies that slot seamlessly into our lives. They kick-start careers, repair cars, entertain crowds, build schools, feed families, supply water, and save lives. It's a real cross-section of industries and market sectors, that's exactly how we like it.

The down-to-earth team approach helps brands make sense of digital, connect with more people who matter and leave a memorable, lasting impression.

Last year Zeal implemented its biggest-ever strategic change. A repositioning project was created specifically to help the agency to help more of the clients it works best with. This meant being honest about values, capabilities, and the organisation we are capable of achieving the best results.

The team recognise that start-ups often need help in more areas than just marketing. If our in-house services team can't help a startup reach its goals (unlikely!), then clients will be connected with someone who can. That's why 'Zeal Connect' was launched – a network of entrepreneurs, experts, and advisors from the startup sphere and beyond.
Zeal Connect helps clients get practical advice on all kinds of common and not-so-common questions. From funding rounds and legal advice to well-being, finances and hiring.

Across the board, clients can expect to get valuable help and insight with a variety of important issues ranging from angel investment, private equity, venture capital and storage & distribution to HR, legal advice, accountancy, training and stock management. The whole shooting match!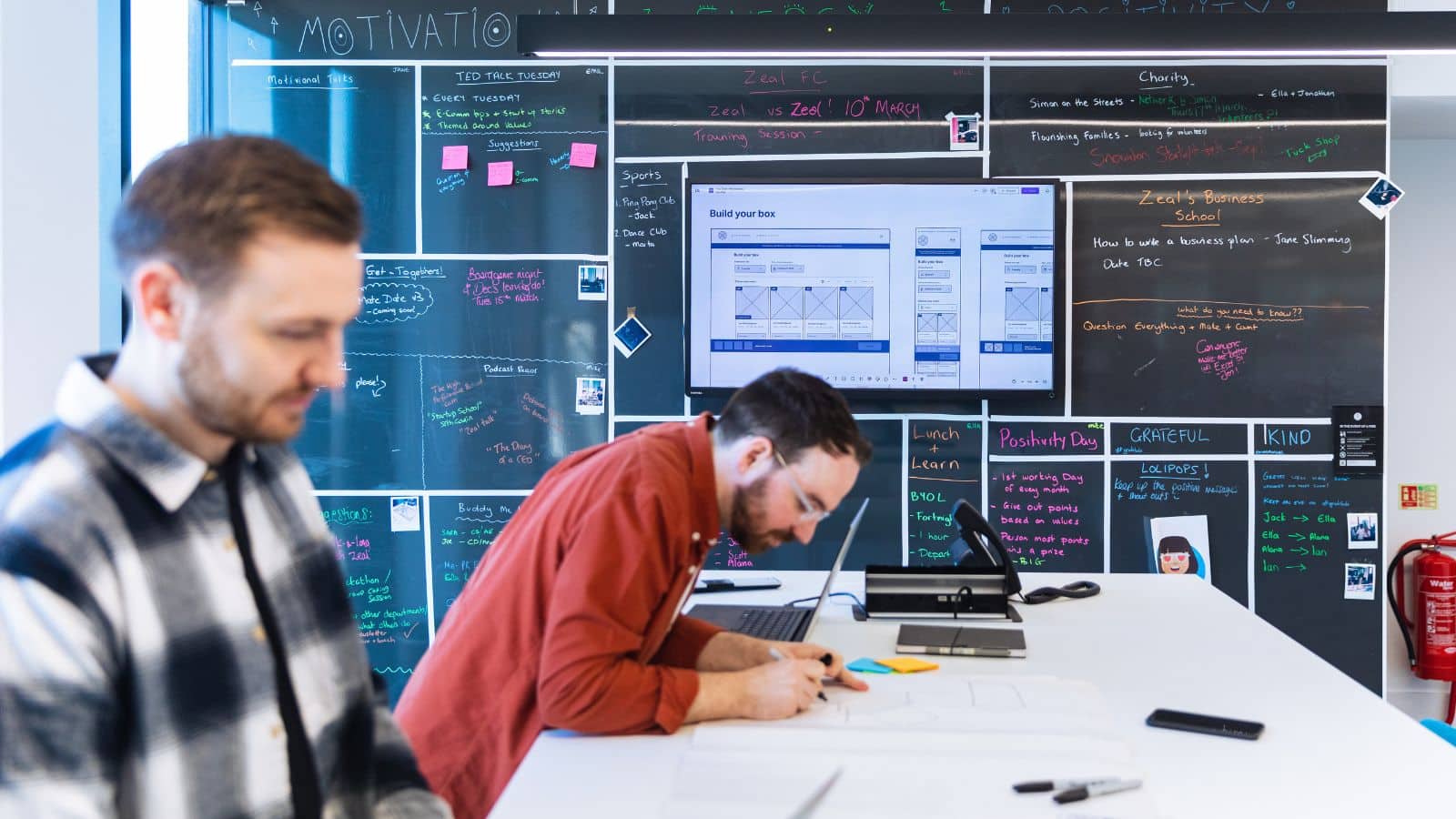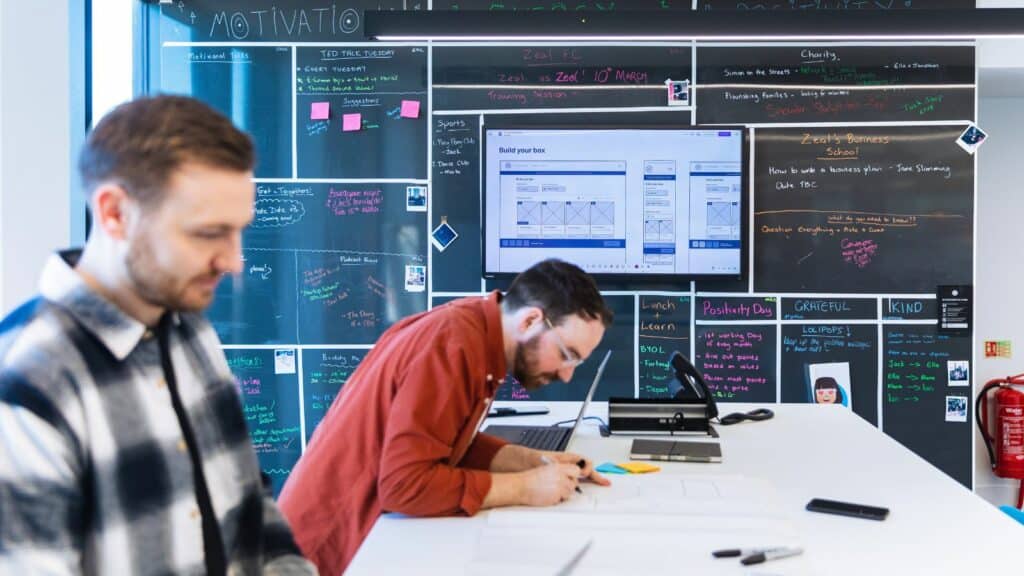 Why is the workplace appropriate?
It inspires creativity. Nearly every walk is a dry board, with values displayed on the pillars. There are more formal areas like the boardroom and then informal breakout rooms like the garden area, which is great in the summer and on nice days.
There's a big open kitchen and a creative area that can be used for lots of different things together with a shared rooftop terrace for lunch, entertaining and getting to know the neighbours. It really is a superb location, with a regular programme of great networking events hosted within the building – great for development and learning as well as networking. The panoramic views of the city and the fact that it allows dogs is also a major bonus.

Who works there?

A tight-knit team of marketers, developers, creative strategists, content generators, digital designers, technical architects and campaign executives. Mainly 20-30-year-olds with a few more 'mature' team members, plus two dogs and my mum on reception two days a week!