This week Dr Catherine Butcher, Deputy MD and Life Science & Health Director, BDB, runs us through a week in her working life. To suggest another senior media or creative figure for A Week In My Life, please email david@prolificnorth.co.uk.
Monday 21st August
Monday marked the morning after the weekend before. A 30th birthday is equivalent to dog years in agency terms, so we took celebrations to new heights on our cruise to Bruges.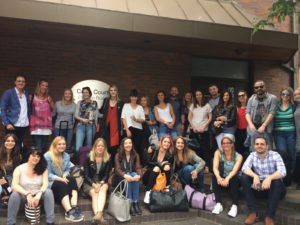 The BDB team in Bruges
Bonding and team work were by any means necessary on our tram/train/taxi/boat to Zeebrugge, and before we knew it we were on our brewery tour at De Halve Maan. I was pleasantly surprised to find that it effectively combined science, history and beer, reason enough for the first 'cheers' of the day.
Following our hazy return to the office on Monday, we were reunited with our well-received ideas boxes that had been safely left in the office following our summer company meeting on Friday. These team packs are a practical application of our ethos "Ideas that Connect" in action, as well as containing those everyday essentials of a decent notebook, pen, usb stick and portable phone charger. Most importantly, it contains a copy of 'A Technique for Producing Ideas', by James Webb Young and a fidget cube to help us hatch those incubating ideas and unleash our creativity.
Tuesday 22nd August
Back to business mode with our diverse range of clients. First call of the day is a team briefing from a packaging client, who is looking to promote to niche/specialist beverage audiences in Italy and Germany. Great time for our resident Italian and German account handlers to come into their own, especially when it comes to charming national/local trade organisations!
Next, it's a meeting with our production teams to discuss the exhibition stand creative for one of our clients exhibiting at the food and beverage trade fair Anuga in Germany. Lots of ideas abound about how best to combine heritage, agronomy and sustainability.
A discussion with the marketing team covers all our potential opportunities to support our nominated charity The Seashell Trust. As well as the brave souls taking on October's Rough Runner in Manchester, we are also planning to coordinate an on-site team volunteering, as well as promote a variety of individual fundraising ideas.
Wednesday 23rd August
The day starts with some gentle yoga at the office in our homemade studio downstairs. Stretching the body distracts the mind just long enough to be ready for a full day's brain gym in the office.
Today I interview biomedical scientists in four hospitals, so we can create a mega case study for one of our clients to be published in a diagnostic pathology magazine. This edition will coincide with a biennial congress and trade show for scientists and clinicians working in hospital laboratories. Interacting with scientific and lab-based clients is still something I really enjoy. Having lab experience breaks down barriers with technical (often not pro-marketing) contacts. It helps me quickly establish a trust that we will accurately convey complex technical information in easy to understand marketing messages.
Thursday 24th August
After catching up on some industry reports, it's time to review some life science new business prospects and follow up with some new connections. Then it's a complete switch and into an appraisal with a rising star in our account handling team.
We take people development seriously, so it is a well-rounded discussion with full 360 feedback that results in a readily actionable personal development plan. Next, it's time to finalise preparations for our client meeting in the Netherlands tomorrow and get ready for an extremely early check-in at Manchester airport!
Friday 25th August
Our beach selfie
Our early start is powered by Pret a Manger in Terminal 1 – I will be official brand ambassador before I know it! We jump on the train from Schiphol to Delft, where we see the new developments on our client's site followed by a productive planning meeting and introductions to new team members. Unexpectedly, we also get to star as extras in an internal video shoot. Turns out we are especially good at looking intelligent and interested as one of the senior executives keeps us entertained with one of his presentations, as well as addressing a colleague who isn't physically there. It's like shooting a movie without the green screen.
After that, we head to the beach at The Hague for lunch. As "Manchester has everything except a beach" we make the most of it and enjoy lunch in the beautiful seaside setting of Kijkduin as we bid farewell to one of our longstanding client contacts. We all believe it's a case of bientot not au revoir, and look forward to having the opportunity to work together in the future. At the same time, we strike up an immediate rapport with a new senior contact who we are really looking forward to working with. Especially as we all get sand in our eyes when attempting a selfie.
Back at the airport, the temperature is rising so we cool down with some drinks, sushi and plans for the weekend. At the gate, we find out there are two identically-timed departures to Manchester which were not listed on the same board. So, we sprint from one side of the airport to the another, unintentionally breaking Roger Bannister's record for the 4-minute mile and arriving just in time at the gate. We agree one thing's for sure as we collapse on the plane – there's never a dull moment and we're always ready for anything!