Nurse Lucy Letby, now known as the UK's most prolific modern day child serial killer, was found guilty of the murder of seven infants, and a further seven counts of attempted murder against six others.
A surge in deaths and near-fatal collapses of premature babies at the Countess of Chester Hospital between June 2015 and June 2016 led to an investigation into Letby, who was handed a whole life-term on 21st August at Manchester Crown Court after a lengthy trial.
Letby had waged a 'cruel, calculated and cynical campaign of child murder involving the smallest and most vulnerable of children' said Mr Justice Goss KC during the hearing.
Cheshire Police launched Operation Hummingbird to investigate the murders and attempted murders committed by Letby, after she was first arrested at her home in Chester in 2018.
Details from Letby's high-profile trial attracted widespread attention and the government has since ordered an independent public inquiry, and there's no doubt that the case will continue to be scrutinised by the public and media.
An early entry into what is likely to become a vast library of work looking back at the events has come from Cheshire Police's own in-house communications team. The force has launched its own video series about the 'sensitive and highly complex case' on Twitter, named Operation Hummingbird: The investigation behind the conviction of Lucy Letby.
In a statement releasing the video series, Cheshire Police said: "Lots has been and will be written and broadcast by others, but we want to bring you our side of the story with this documentary, created internally by our communications team and with exclusive access to the investigation team."
The branding of the in-house film as an "exclusive" has attracted criticism from sections of the media over the potential for an in-house production, with unprecedented access that was not available to traditional media, to devalue actual press and documentary "exclusives" in future.
Among those to question the choice of terminology was Marc Waddington, editor of the Chester Chronicle and its sister Cheshire Live website.
Waddington was broadly supportive of the force's media relations during the case, but told Hold the Front Page: "When an 'exclusive' comes about not as a result of a reporter's skill, determination or relationship building, but comes about instead as a result of someone being in a position of privilege not enjoyed by the media, then I wouldn't think that was something to shout about."
Cheshire Police's in-house Letby film
Rob McLoughlin OBE is a former investigator for ITV's multi-BAFTA-winning current affairs series World in Action, host of Granada's political and election programmes until 2016 and presented the original Weekend Breakfast shows on BBC R5Live with Jane Garvey. He praises the in-house film for its "remarkable insight into the intensity of an emotionally draining investigation over more than six years."
On the question of whether the film lessens "exclusive" documentaries carried out by independent filmmakers, particularly in light of the fact "exclusivity" is a key selling point for commissioners, McLoughlin offers a more cautious "potentially."

He says: "It's vital that forces open themselves up to scrutiny and debate. That is key in a democracy. I have co-operated with forces in Paris, London, Amsterdam, Merseyside, Lancashire and Manchester as well as Belfast but equally have led investigative pieces into the conduct of forces and investigated serious allegations against them.
"I recall that Sir John Hermon, the late and former Chief Constable of the Royal Ulster Constabulary, gave Granada TV a blistering interview over allegations of a 'shoot to kill' policy during 'The Troubles'. He defended his force to the end."
McLoughlin continues: "Today a piece to camera by him, or any officer who finds himself in a similar position, making the same defensive arguments on social media could appear as propaganda but equally it is better than silence and denials and allows further journalistic work and research to take place. At that time journalists and the public wanted to hear the police view and their defence; it took years for it to emerge."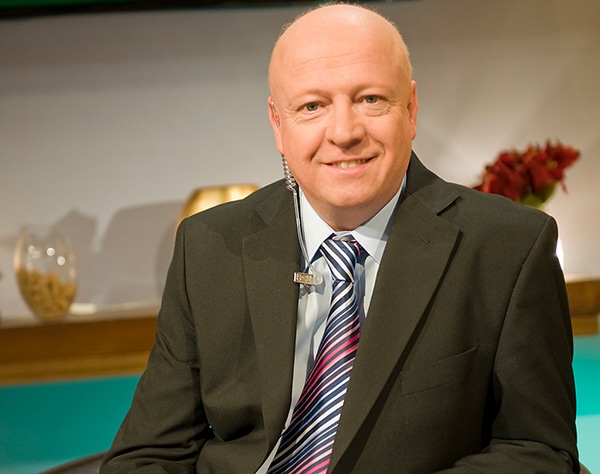 Like Waddington, McLoughlin says that overall the Cheshire force's efforts to support the media through the investigation deserve praise: "In Hummingbird, the police did have a special unit set-up to deal with media enquiries and it's fascinating that their inquiry didn't stop when the court case started," he says.
"They continued to check evidence and Letby's defence. This must be a huge comfort to the families because up until the moment that the jury returned their verdicts, the police and Crown Prosecution Service (CPS) were determined to nail her."
He adds: "For me, this video reveals many things: Detective Superintendent Paul Hughes (who led the operation) discusses how disadvantaged they were when dealing with medical terms and references, they needed experts to be drafted in (provided by NCA) and reveals how they struggled to keep an open mind. That is always critical, you have to follow the evidence and who the evidence is coming from.
"At the same time, it's clear that the evidence from the hospital was pointing in one direction which creates real dilemmas for an open-minded inquiry which I would have liked this film to have explored more with the officers. A journalist or independent filmmaker most certainly would have done."
Can Cheshire Police's film be classed as a documentary?
During his work with police forces across the UK and Europe over the years, including investigating the "serious consequences and actions of police forces" in London, Northern Ireland and Greater Manchester, McLoughlin says he would have welcomed the kind of insight Cheshire Police's film offers.
The storied broadcaster highlights one particular case where an inside view could have been particularly beneficial: "The Stalker Affair, which saw the removal of a very senior officer during a murder inquiry into six deaths or 'ambushes' in Ulster," he recalls. "I would have welcomed the opportunity to hear first-hand the views of the serving men and women on the ground. It's so rare to get this perspective, especially on the record."
Like any good investigator, he says first-person access is preferable, although the film offers value nonetheless: "I would have preferred to raise and ask the questions myself or seen it through the eyes of an independent lens or well-researched journalist, but this video from Cheshire Police does carry important insights," he says.

In the age of social media and direct broadcasting, "any PR person would have suggested this route."

He adds: "In an era where any company or organisation can be its own 'broadcaster' (and so can any individual) this must be an important historical document.
"It shows how Cheshire Police had to engage with other forces on how to manage such a large team effort and inquiry, including drawing on those investigating the Manchester Arena Bombing and Hillsborough. They also had to collaborate with the National Crime Agency (NCA) because as one officer states, these crimes are rare in this country and, thankfully, internationally."
Cheshire Police's head of corporate communications, Sarah Ford, said the decision to do the video was an opportunity to tell the force's side of the story, in a statement to Prolific North.
"This video provided us with an opportunity to explain the work involved in this very lengthy and complex investigation and trial," she explains. "There were a lot of questions that we were being asked that, due to the ongoing investigation, we couldn't answer in detail so this was our way of explaining what we could in a more controlled way. It also provided us with an opportunity to document the investigation for the officers and police staff involved and to share with the families in this case."
The film has already amassed more than 92,000 views in a week, with Ford adding it has been well received by the public.
"It sits alongside the work we have already done with the media in terms of pre-trial and pre-verdict briefings, conducting embargoed interviews with officers and arranging an anonymous interview with one of the families involved in the trial. The video was one strand of a very detailed communications strategy that allowed us to tell our side of the story across our various communication channels."
McLoughlin adds: "In time, independent journalists and filmmakers will hopefully be able to incorporate this testimony from serving officers, psychologists, and family liaison officers. Especially into the assessments of the personal strain upon police and the families to get a conviction.
"Would it have benefited from being made by a documentary maker? Yes, but it is moving testimony and in parts painful and difficult to hear so it is very important source material. The questions will now focus on why this was allowed to happen for so long, how many lives could have been saved, why did staff not bring the police in earlier and why didn't the management?"
He adds: "Those lessons need to be learned. For me and I think the public will shortly want to hear the views of Cheshire Police and the CPS on the major outstanding issue: what stood in the way of earlier detection and an early end to these horrific crimes?
"I would encourage your readers to watch the Cheshire Police video as it does reveal so much about the internal stresses and pressures facing a major and heartbreaking investigation."
You can watch the film below: