18 January 2017
Ben Dirs leaves BBC Sport after 16 years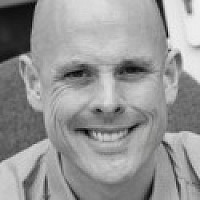 Ben Dirs, one of the BBC's best-known bloggers and writers, has left to pursue a career as a freelance author.
Dirs has written several sports books
Dirs joined BBC Sport in 2001 and became a pioneering live blogger and key feature writer.
He has authored several books, including We Could be Heroes: One Van, Two Blokes and Twelve World Championships; Everywhere We Went: Top Tales from Cricket's Barmy Army; and Box to Box with Curtis Woodhouse.
"Ben has played a key role in our online sports coverage, including helping to establish our popular live commentaries in the early days of the BBC Sport website," Ben Gallop, head of BBC Sport Interactive, wrote in an email to staff.
Comrades, I have typed my last word for the BBC. Gone author/ freelance/unemployed. Have laptop, will travel (except to Salford) PLEASE RT!

— Ben Dirs (@bendirs1) January 17, 2017
"Through his blogs and features on the website, Ben established a distinctive writing style – and it is in this capacity he will now be concentrating, with two books currently in the works. We wish him all the best and look forward to seeing his writing career go from strength to strength."
Bits from the blogs:
"I'd imagine Janowicz is a fine lover - a big, bear of a man but with the hands of a miniature portrait painter."
"Scholes may well be the best player England have produced for the last 15 years, but he has all the tackling ability of a granny on roller skates."
"Monty went beserk, like a toddler who's just been told he can't have a Happy Meal."
"Fighting Carl Froch must have been like being pursued by a boulder, gathering speed through a tunnel."
"Just two from the over, Anderson tighter than Andy Fordham's watch strap."