23 March 2016
BBC: 'We want to improve digital and technology literacy of a generation'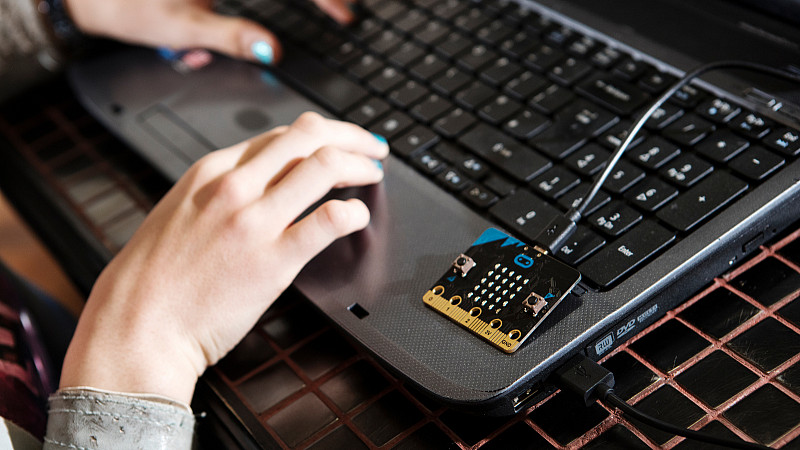 The BBC handed out a million tiny codeable computers called micro:bits this week. Sinead Rocks, head of BBC Learning, based in Salford, explains why it was done and what it can help to achieve.
When you speak to people of a certain age, they fondly remember the first time they encountered a strange new phenomenon called 'computers'.
And for many of them, that first experience was on a BBC Microcomputer.
It played a huge role helping the nation get to grips with new technology, and inspired countless British computing success stories.
And now, the BBC and others are attempting to do something similar. This week, we started sending every Year Seven student in England and Wales their own BBC micro:bit.
It's a pocket-sized, codeable computer that allows them to get creative with technology, whatever their level of experience, in a fun and engaging way.
In total, up to one million BBC micro:bits will be given to students across the UK.
We haven't - and couldn't - have done this on our own. We've worked closely with 31 partner organisations, each bringing their unique set of skills and experience – from hardware to software and everything in-between.
So how does it work?
Measuring 4cm by 5cm, you have the power to code, customise and control the BBC micro:bit.
One of the most important features is that it requires you to program it in order to work.
This means it's up to you to master the 25 red LEDs lights, programmable buttons, motion detector, and compass and immediately begin learning and developing from the word go.
You can write messages on the LED screen, connect to a camera and use it as a remote control to take photos and control sound levels using the motion sensors.
There's also a website - www.microbit.co.uk - where you can program the BBC micro:bit through one of the intuitive code editors.
The website also features a range of resources and tutorials to help teachers, parents and students take advantage of the BBC micro:bit's vast potential.
And the official BBC micro:bit app allows children to code on the go, and connect their micro:bits to smartphones and tablets.
The advantage of having an app means that it makes the micro:bit incredibly portable. Whenever someone has a spare minute or a moment of inspiration they can start creating.
As students get to grips with it, they can also start using the BBC micro:bit along with other devices already available such as Arduino, Galileo, Kano, littleBits and Raspberry Pi and begin to create more complex programs with practical applications.
Creating fun, ingenious solutions to everyday problems is at the heart of what we want the BBC micro:bit to inspire.
It could be an automatic watering system for plants using the micro:bit and a moisture sensor, a heart rate monitor, or a special micro:bit watch. There are an endless number of applications for it.
We hope the BBC micro:bit will leave a lasting and positive impact on school across the country.
There is a critical skills shortage in the UK technology sector at the moment, and we hope the micro:bit will leave a tangible legacy and can help close the gap.
There are exciting possibilities in the science, technology and engineering fields, and we want to give people the opportunity to take of advantage of them - not to view them as 'too difficult' as many students tell us today.
But it's not just about giving people careers. We want to help improve the general digital and technology literacy of an entire generation, so they can start to modify and improve the world around them.
In 30 years' time, when today's 11 and 12 year-olds look back on their time at school, I hope they remember receiving their BBC micro:bit as a lightbulb moment.
A day when they realised that technology isn't the inaccessible stuff hidden inside a phone or tablet, but something with vast creative potential that they can bend to their will.