29 October 2015
Stardotstar founder to leave the company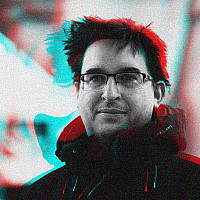 Gareth Langley, the co-founder of Stardotstar, has announced that he is leaving the agency.
The "amicable" and "positive" move has been planned for some time, with Langley now seeking to "pursue a number of personal projects."
"There's never a good time to leave the people and projects you love so dearly," said Langley, "but I leave behind me one of the most creative development teams in the region, working on some of the most interesting and exciting projects, all in the capable hands of my Best Man and life-long friend Gez O'Brien."
The pair set up the Manchester agency in 2001 and have since worked on projects for BBC Learning, CBBC, Channel 4 and the Open University.
"It's the end of one era, but the dawn of another… It's a real shame to see Gareth move on to new things after all these years, but we wish him all the best for the next phase of his career. In the meantime, it's business as usual for Stardotstar: as well as the enterprise education project with Stepping into Business announced earlier this month, we're also in the middle of several other wonderful projects," added managing director and fellow co-founder O'Brien.