09 September 2015
Duke of York takes Pitch@Palace to The Sharp project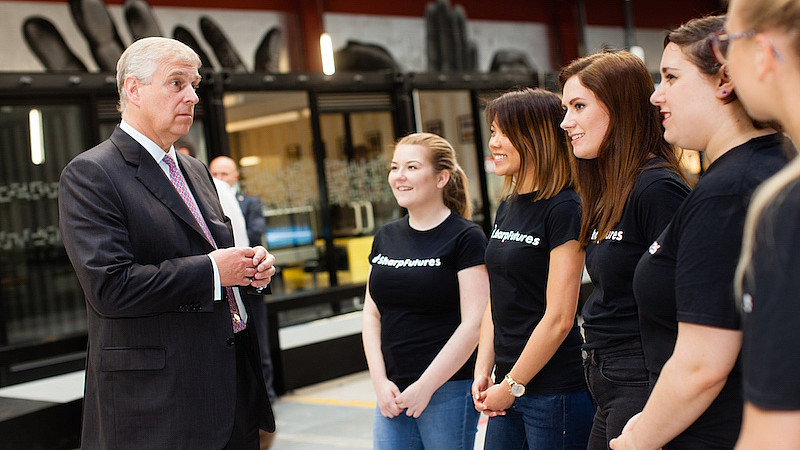 The Sharp Project has become the first venue outside London to host Pitch@Palace On Tour and receive the backing of The Duke of York.
In total 17 tech start-ups from across the UK including seven from Manchester and one from Lancaster gave a three minute presentation to Prince Andrew and a panel of judges from the technology sector including Scott Fletcher from ANS, Martin Bryant from The Next Web and Lawrence Jones from UKFast.
HRH founded Pitch@Palace last year to support entrepreneurs with the amplification and acceleration of their business ideas by connecting them with potential supporters including CEOs, Angels, Mentors, and key Business Partners. Previous events have been hosted at St James's Palace.
The judges selected three finalists who will now attend a 'Boot Camp' in London to gain more mentoring and coaching before Pitch@Palace 4.0 at St James Palace on 2 November.
The Duke said: "Pitch@Palace has taken off in a way I never expected. It started when I thought I should become a VC myself but I quickly realised a member of the Royal family would never make a good VC. However, I can add value to the world of the entrepreneur by being an accelerant and nothing more. I can help people network, make connections and help businesses accelerate. It great to be able to take what we've done in London and bring it to the regions."
The three finalists were:
HOWZ, a Manchester company that has created an app to help monitor the health and well-being of the elderly.
Innovative Heathcare Solutions from Glasgow.
London-based Blockdox.
The Sharp Project CEO Rose Marley said: "The Sharp Project was delighted to host this first event outside London. Not only are we home to more than 50 tech and digital businesses but we have a strong commitment to education and skills in the sector and developing talent to provide the next generation of tech entrepreneurs, both of which are subjects hugely supported by The Duke."