16 December 2014
Willy Russell has his way with words at MediaCityUK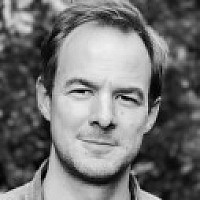 Playwright, musician and novelist Willy Russell has chosen "words" for the fourth annual BBC Radio 4's Front Row's neon artwork, which was unveiled during last night's live edition of the programme from the BBC studios at MediaCityUK.
Liverpool-born Russell was invited to choose the word in the year that marks the 40th anniversary of John, Paul, George, Ringo... and Bert, the play that first made his name.
Russell outside his new neon sign at MediaCityUK
Having been ejected from a school art class by a teacher who told him the only thing he'd ever draw would be "the dole", Russell said he was "rather chuffed" to be asked to be part of an art project.
"I felt a responsibility to come up with a word that would resonate with as many people as possible," he said.
Three years ago, to mark the BBC's move to the North, "listen", selected by Front Row presenter John Wilson, was unveiled as the first neon word to shine out from MediaCity.
In 2012, film director Danny Boyle, fresh from his Olympic opening ceremony triumph, unveiled 'Wonder' as his choice for the neon artwork.
Last Christmas Victoria Wood gave us "happy", as the word to light up the MediaCity skyline.
The neon artwork is situated on the third floor terrace of Dock House and visible across the Manchester Ship Canal from the Lowry.