29 October 2014
Access launches redesigned BAFTA websites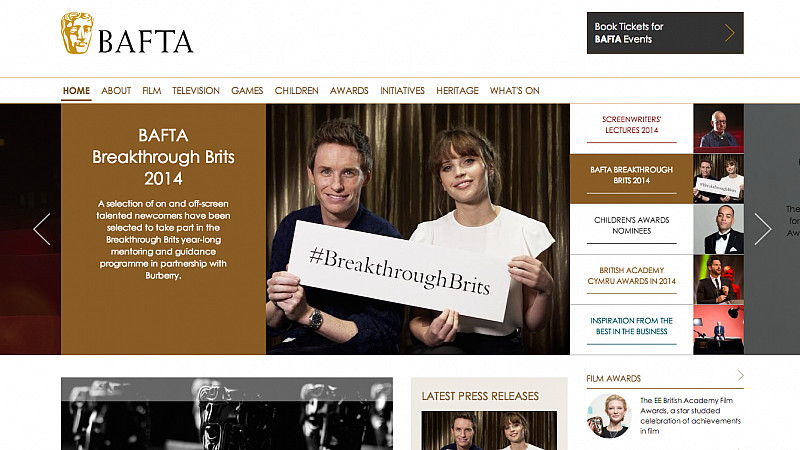 Manchester agency Access has launched redesigned websites for the British Academy of Film and Television Arts (BAFTA).
The integrated digital marketing agency has rebuilt the global BAFTA site, including its sub-sites; BAFTA Young Game Designers, BAFTA Awards and BAFTA 195 Piccadilly.
"This has been a major project for BAFTA and Access and we're very proud of the results," said Mark Hope, digital director for Access.
"Together we've created a robust, future-proofed platform that will enable BAFTA to deliver its digital strategy more effectively. Creating a great experience for the expanding global audience and improving the online services for BAFTA members were key goals for us."
Each of BAFTA's 6,500 members will now see personalised and timely content, underpinned by Access's integration of Drupal with Salesforce, BAFTA's customer relationship management (CRM) software. A login only section on bafta.org provides members access to exclusive content and features, including the ability to manage their subscriptions and connect with other members using the built-in messaging tools.
Digital Communications Manager for BAFTA, Pippa Irvine, said: ""The launch of bafta.org marks the culmination of a huge digital renovation for BAFTA that will underpin our long-term audience focused strategy."
The platform, built on the Drupal CMS, has been configured to streamline editorial workflow and enables BAFTA to be highly responsive to delivering news, events and other visual content. Cross-site promotion of content and unified site search across bafta.org and its sister sites provide greater efficiency for the editorial teams and will make content more 'discoverable' for end-users. A fully responsive design and social media integration, including social commenting, optimises the user experience across all devices making content easier to consume.
The agency has already managed the configuration of a scalable hosting solution, using Rackspace Cloud, to help BAFTA meet demand during its famous ceremonies. During the last major ceremony in May 2014, the Awards site successfully served over 20,000 users at peak with zero downtime during this crucial period.
Following early successes with the main web project, Access was invited to develop a new tone of voice and full content for the Academy's prestigious private event hire business BAFTA 195 Piccadilly in addition to working on a brand refresh and redesign of its bafta.org sub-site.
Access is now working with BAFTA in a strategic digital marketing capacity in addition to providing on-going support and maintenance across the Academy's sites.
A member of the Government backed GrowthAccelerator initiative, Access says it currently enjoying double digit growth year on year and recently celebrated its 15th anniversary.