17 September 2014
Scottish Referendum: Could your bellyvision tweets hold the result?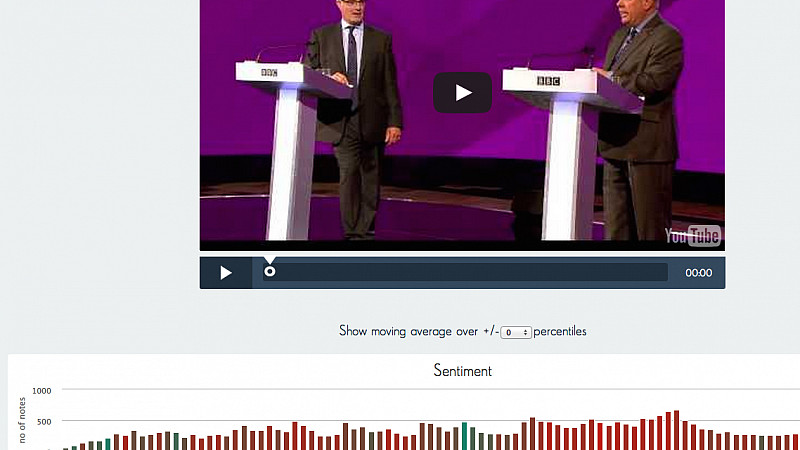 As the country waits for the results of the Scottish referendum come in, a company in Newcastle has been looking at different ways to forecast and analyse the debate through people's social media responses to video.
As an experiment, the video interaction specialists at Reframed.tv took a video of the debate between Alistair Darling and Alex Salmond then captured all the tweets and built a 'sentiment' tool to analyse them.
Co-founder Jo York explained: "The recent televised debate between Alistair Darling and Alex Salmond prompted over 250,000 tweets with the hashtag #bbcindyref. And that in turn prompted us to ask – wouldn't it be great to know exactly which moment of the TV debate each tweet was referring to? And then, even better – what if we could say whether those tweets were positive or negative, to get a sense of who was winning public opinion at any given moment?
"The first task was to work out whether or not all 250,000 tweets were really worth using. We filtered out tweets that occurred before the TV debate started and after it ended, and also removed retweets and spam tweets. That left 34,590 tweets. Next we put a sentiment analysis on each tweet, to figure out whether the tweet was positive, negative or neutral. Then we mapped each tweet onto a video of the TV debate, and added some nice gadgets, to let you drill-down into the detail of each moment and change the precision of the trends."
And the company has provided access to the tool here with warnings that it is experimental and so could be glitchy but, if you'd like to try it out, simply add your keyword search into the box to explore some of the words and feelings that were commonly used around the debate.
The company has since repeated the process using Apple's recent announcement too. Similarities they noticed around peoples' behaviour in both broadcasts were that views became solidified at around the 20 minute point.
It also showed the Scotland debate reaction to be more sweary in tone and language!
"We're now looking at doing this in real-time. What we did here was very basic and only based on Twitter so we could do something more with Facebook and other comments and look at different ways of analysing by things such as geography or similar."
The company, formed as part of the Ignite100 initiative which mentored ten teams of digital startups in the north east and recently attracted the attention of Number 10 Downing Street for its work, will also look at how the technology can be used alongside YouTube live broadcasts.
Oh and, in case you're wondering, in the referendum video, the occurrence of No is 59% to Yes 41%.