02 July 2014
Yorkshire saddles up for Tour de France promotions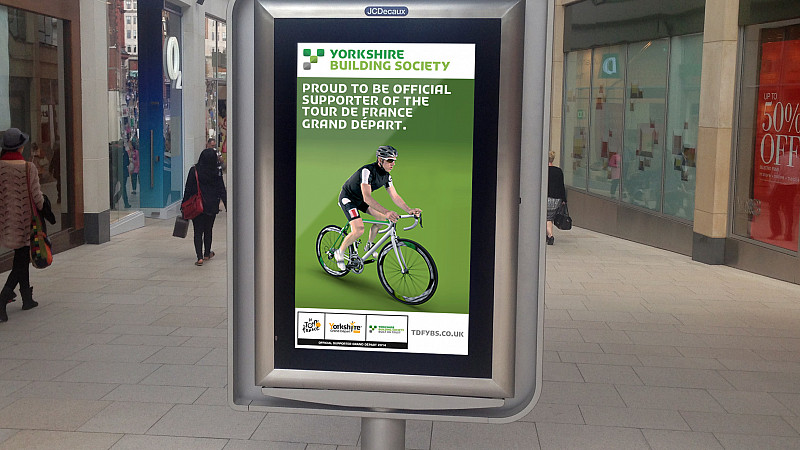 With just days to go, there's one topic on the agenda for Yorkshire publishers and marketeers - the Tour de France Grand Départ.
It is expected that the event will bring millions of visitors to the region over the three-day period and provide a colourful and memorable spectacle.
One of those banking on its high profile is official supporter Yorkshire Building Society (YBS) which has launched a digital campaign.
YBS engaged Tall, the digital creative agency, to bring the campaign to life by aiming at as many audiences as possible - cycling enthusiasts, route audiences, visitors/shoppers in Leeds and Harrogate and even people watching on the sofa at home.
The activity includes a microsite hub - featuring exclusive content with five times Olympic Champion, Double Olympic Gold Medallist and YBS Ambassador Ed Clancy MBE - online advertising, including a partnership with ITV.com, social media competition and games as well as digital screens for train stations and Leeds' Trinity Centre.
Customer acquisition manager at YBS, Anna Higgins, said: "It has been a huge investment for the Society, but it has been the right decision and the right approach for us to adopt – the combination of sponsorship fused with the cutting-edge digital executions we have developed will allow us to engage with a huge audience that we would not normally be able to reach."
The event will also be captured with a series of souvenir editions from the Yorkshire Post and other Johnston Press titles.
They include a 48-page guide to Le Grand Depart published with The Yorkshire Post, Yorkshire Evening Post, The Star in Sheffield and in most weeklies in the group's Yorkshire Publishing Unit.
Managing editor Nicola Furbisher told HoldTheFrontPage this morning: "The entire Yorkshire Publishing Unit together with the Sheffield Star is joining forces and pooling resources, working together in conjunction with one another for the first time to make sure that we make the most of the huge opportunities, both editorially and commercially, offered by the Tour De France."
* If you have a Grand Depart initiative, feel free to add the details in the comments below or mail our newsdesk - newsATprolificnorth.co.uk.