11 June 2014
Northern digital entrepreneurs in royal reception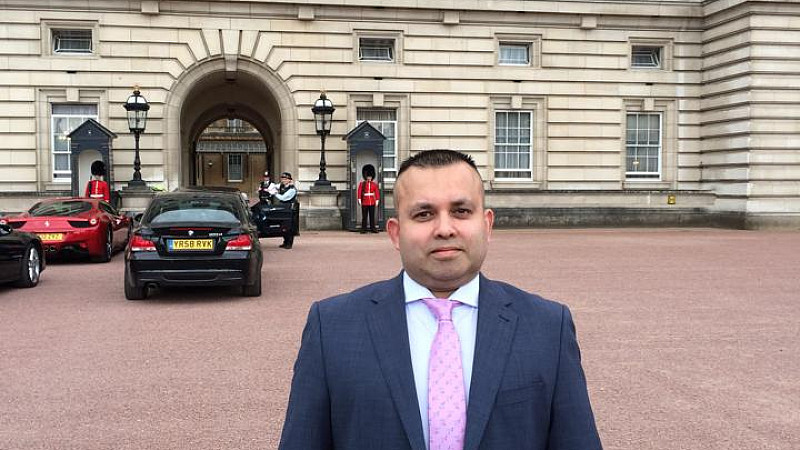 Manoj Ranaweera at the Palace
A host of northern digital entrepreneurs were among those invited along to Buckingham Palace this week for a royal reception to recognise the importance of UK tech startups.
In total more than 350 of the UK's most successful and most promising technologists were received by the Queen and the Duke of York for Tech at the Palace.
Although pictures were frowned upon - definitely not a selfie situation - guests were allowed to keep their mobile phones with them so they could tweet about their power networking experience.
And several were busy updating Facbook profiles and blogs this week about their experience.
One of those, Manchester technologist Manoj Ranaweera, has even used the pictures as his Twitter profile page.
"First of all, I thought it was a hoax when I received an email from the Private Secretary to the Duke of York requesting confirmation of my details so that she could send an invitation to attend the Tech Reception," he posted.
"Who would have thought an ordinary guy from Gampaha (Sri Lanka) would one day be shaking the hand of Queen of Great Britain and the Commonwealth at Buckingham Palace, and be joking with Duke of Edinburgh and Duke of York."
The experience was similarly inspiring for well-known digital journalist Martin Bryant, editor in chief at The Next Web.
He told me: "It was certainly a highlight of my year and it was great to see so many senior royals showing their support for the UK's technology industry. What was really impressive was how geographically diverse the attendees were. This wasn't just about London with a few token additions from elsewhere. Manchester was strongly represented along with Northern Ireland, Bristol, Edinburgh, Newcastle and other places."
Other names mentioned in connection with this prestigious gathering were Doug Ward from TechHub Manchester, developer Gemma Cameron, Hugh Campbell from GP Bullhound, Ric Roberts from Swrrl, Duncan Stockdill from Capsule CRM, Paul Smith, from Ignite and Kieron Roberts.
Were you there? Please do share your thoughts on the occasion below, we'd love to hear about it.