22 June 2017
Winner announced for BBC Three Northern Docs pitch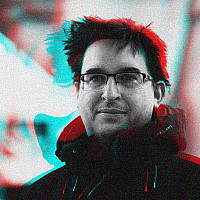 Ryan Gregory has won the inaugural BBC Three Northern Docs Pitch at the Sheffield Doc/Fest.
The Lancashire director will be offered a commission to make a 60 minute film for the BBC, as well as receiving mentoring and production support from Blakeway North.
"Ever since I was told I received the commission I've been going through a weird rollercoaster of emotions. The Grierson DocLab helped immensely in so many different ways. Firstly I wouldn't even have known about Sheffield Doc/Fest if it wasn't for the DocLab!" he said.
"Doing a mock pitch with the same idea this time last year allowed me to practice and hone my pitch. Then there's the support and advice from people with much more experience when I was practising my pitch in days leading up to the live event.
"The film focuses on two voice hearers - what is commonly referred to as suffering from schizophrenia - and through the use of voice actors we will reconstruct the voices that our subjects hear.  I'm both nervous and excited to start working on the project as this is the biggest creative project I've led and I can't wait to start work with Blakeway North."
The Grierson Trust charity was set up to promote documentary filmmaking and to celebrate the work of John Grierson. DocHouse helps newcomers learn skills to make them 'job-ready.'
"I am delighted Ryan won the live pitch for our new scheme. He's an extraordinary new talent and we feel privileged to be working with him, especially because the quality of ideas and young new directors was so high," added Danny Horan documentary commissioning editor for BBC Three.
"Ryan will be working with Blakeway North to develop his idea and be mentored closely by the Docs team. There is real talent in the North of England we are keen to work more with and Ryan represents a new breed of director we are excited to be making films with."