02 October 2015
Shortlist announced for Royal Television Society Awards in the North West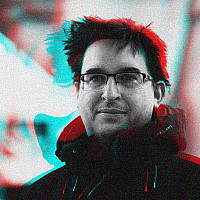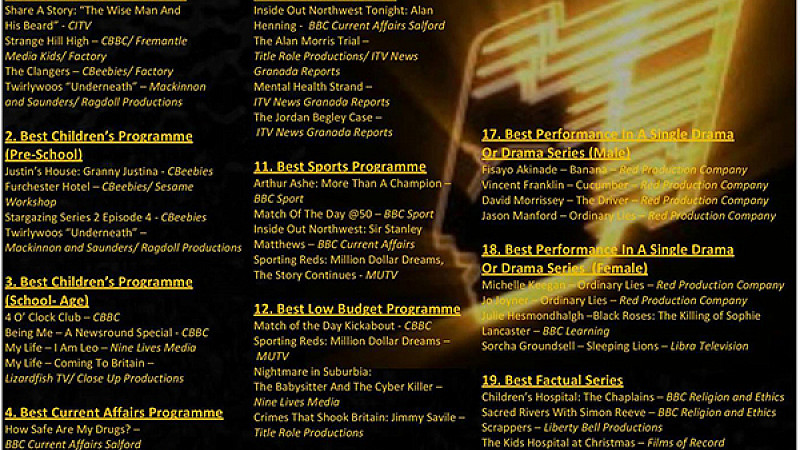 The shortlist has been announced this morning for the Royal Television Society's North West Awards.
This year, it has renamed its Best Learning or Education Programme category in honour of Katy Jones, the journalist and executive producer who died suddenly in April.
"The shortlist for the RTS North West Awards this year is truly impressive. From a record-breaking 240 entries our judges have debated, and championed their choices," said Alex Connock, Chair of the RTS North West Centre and MD of Shine North.
"They've come up with a nominations list of 100 names: programmes, people and performances from – and for – the North West, that have made a real impact on our screens in the last 12 months. TV in the North West is a genuinely creative, genuinely growing Northern powerhouse of creative talent."
The winners will be announced at a ceremony at the Hilton Hotel in November, hosted by Ted Robbins.
The Shortlist:
Best Animation / Puppetry 
Share A Story: "The Wise Man And His Beard" CITV for CITV
Strange Hill High BBC Children's/ FremantleMedia Kids & Family Entertainment/ Factory for CBBC
The Clangers BBC Children's/ Factory for CBeebies
Twirlywoos "Underneath" Mackinnon and Saunders/ Ragdoll Productions for CBeebies
Best Children's Programme (Pre-School) 
Furchester Hotel BBC Children's/ Sesame Workshop for CBeebies
Justin's House: "Granny Justina" BBC Children's for CBeebies
Stargazing: Series 2 Episode 4 BBC Children's for CBeebies
Twirlywoos: "Underneath" Mackinnon and Saunders/ Ragdoll Productions for CBeebies
Best Children's Programme (School Age) 
4 O'Clock Club BBC Children's for CBBC
Being Me - A Newsround Special BBC Children's for CBBC
My Life - Coming to Britain Lizardfish TV/ Close Up Productions for CBBC
My Life - I Am Leo Nine Lives Media for CBBC
Best Current Affairs Programme 
Benefits and Bypasses: The Billion Pound Patients Blakeway North for Channel Five
How Safe Are My Drugs? BBC Current Affairs Salford for BBC Three MH17: The Search For The Truth BBC Current Affairs Salford for BBC One
Tonight - Backdoor Britain ITV Studios for ITV
Best Production (Craft) 
Cucumber Red Production Company for Channel 4
Newzoids Factory/ Circus TV for ITV
Peter Kay's Car Share Goodnight Vienna Productions for BBC One
Sleeping Lions Libra Television for BBC Two
Best Post Production (Craft) 

Cilla 3SixtyMedia for ITV
Coronation Street: Minibus Crash & Fire 3SixtyMedia for ITV
Idris Elba: No Limits - Drag Racing Dock 10 for Discovery Channel UK
Peter Kay's Car Share Core Post for BBC One
Best Use Of Multiplatform 
Being Me: Newsround Interactive BBC Children's for CBBC
FA People's Cup with BBC Get Inspired BBC Sport for BBC Get Inspired
Hollyoaks - The Gloved Hand Campaign: An Interactive Treasure Hunt Lime Pictures for Channel 4 The Let's Go Club BBC Children's for CBeebies
Best Regional News Journalist 
Clare Fallon BBC North West Tonight for BBC One
Dave Guest BBC North West Tonight for BBC One
Elaine Willcox ITV News Granada Reports for ITV
Matt O'Donoghue ITV News Granada Reports for ITV
Best Regional News Programme 
BBC North West Tonight - Compilation BBC North West Tonight for BBC One
BBC North West Tonight - Stepping Hill BBC North West Tonight for BBC One
ITV News Granada Reports - Anne Kirkbride ITV News Granada Reports for ITV
ITV News Granada Reports - General Election Compilation ITV News Granada Reports for ITV
Best Regional Story 
Inside Out North West: Alan Henning BBC Current Affairs Salford for BBC One
Mental Health Strand ITV News Granada Reports for ITV
The Alan Morris Trial Title Role Productions/ ITV News Granada Reports for ITV
The Jordan Begley Case ITV News Granada Reports for ITV
Best Sports Programme 
Arthur Ashe: More Than A Champion BBC Sport for BBC Two
Inside Out North West - Sir Stanley Matthews: The Wizard of Wembley BBC Current Affairs Salford for BBC Two Match of the Day @50 BBC Sport for BBC One
Sporting Reds: Million Dollar Dreams, The Story Continues MUTV for MUTV
Best Low Budget Programme 
Crimes That Shook Britain: Jimmy Savile Title Role Productions for Crime and Investigation Network Match of the Day Kickabout BBC Children's for CBBC
Nightmare in Suburbia: The Babysitter & The Cyber Killer Nine Lives Media for Crime and Investigation Network
Sporting Reds: Million Dollar Dreams MUTV for MUTV
Best Script Writer 
Danny Brocklehurst - Ordinary Lies Red Production Company for BBC One
Debbie Oates - Coronation Street ITV Studios for ITV
Peter Kay/ Sian Gibson/ Paul Coleman/ Tim Reid - Peter Kay's Car Share
Goodnight Vienna Productions for BBC One
Russell T Davies - Banana Red Production Company for E4
Best Performance in a Comedy 
Morgana Robinson - House Of Fools Pett Productions/ BBC Comedy Salford for BBC Two
Peter Kay - Peter Kay's Car Share Goodnight Vienna Productions for BBC One
Sian Gibson - Peter Kay's Car Share Goodnight Vienna Productions for BBC One
Vic Reeves and Bob Mortimer - House Of Fools Pett Productions/ BBC Comedy Salford for BBC Two
Best Performance in a Continuing Drama 
Kieron Richardson - Hollyoaks Lime Pictures for Channel 4
Nikki Sanderson - Hollyoaks Lime Pictures for Channel 4
Sally Dynevor - Coronation Street ITV Studios for ITV
Simon Gregson - Coronation Street ITV Studios for ITV
Best Single Documentary 
How Safe Are My Drugs? BBC Current Affairs Salford for BBC Three
Executed Shiver for ITV
Hot Tub Britain Shiver for ITV
My Big Fat Asian Wedding Shiver for ITV
Best Performance in a Single Drama or Drama Series (Male) 
David Morrissey - The Driver Red Production Company for BBC One
Fisayo Akinade - Banana Red Production Company for E4
Jason Manford - Ordinary Lies Red Production Company for BBC One
Vincent Franklin - Cucumber Red Production Company for Channel 4
Best Performance in a Single Drama or Drama Series (Female) 
Jo Joyner - Ordinary Lies Red Production Company for BBC One
Julie Hesmondhalgh - Black Roses: The Killing of Sophie Lancaster BBC Learning for BBC Two
Michelle Keegan - Ordinary Lies Red Production Company for BBC One
Sorcha Groundsell - Sleeping Lions Libra Television for BBC Two
Best Factual Series 
Children's Hospital: The Chaplains BBC Religion and Ethics for BBC Two
Sacred Rivers with Simon Reeve BBC Religion and Ethics for BBC Two
Scrappers Liberty Bell Productions for BBC One
The Kids Hospital at Christmas Films of Record for Channel 5
Best Factual Entertainment Programme 
Dragons' Den BBC Entertainment North for BBC Two
Idris Elba: No Limits - Rally Driving Shine North for Discovery Channel UK
Marrying Mum and Dad BBC Children's for CBBC
Perspectives - Michael Jackson's Thriller with Ashley Banjo Blakeway North for ITV
Best Entertainment Programme 
Hip Hop Mastermind BBC Entertainment North for BBC Two
Sam and Mark's Big Friday Wind-up BBC Children's for CBBC
Swashbuckle BBC Children's for CBeebies
You've Been Framed ITV Studios for ITV
Best Comedy Programme 
Hacker Time BBC Children's for CBBC
House Of Fools Pett Productions/ BBC Comedy Salford for BBC Two
Newzoids Factory/ Circus TV for ITV
Peter Kay's Car Share Goodnight Vienna Productions for BBC One
Best Single Drama or Drama Series 
Banana Red Production Company for E4
Black Roses: The Killing of Sophie Lancaster BBC Learning for BBC Two
Moving On: The Signature LA Productions for BBC One
Ordinary Lies Red Production Company for BBC One
Best Continuing Drama Storyline 
Coronation Street – Faye's Pregnancy ITV Studios for ITV
Coronation Street – Steve's Depression ITV Studios for ITV
Hollyoaks – Justice For John Paul McQueen Lime Pictures for Channel 4
Hollyoaks – Ste Hay: Living With HIV Lime Pictures for Channel 4
Best Learning or Education Programme In Memory of Katy Jones 
BBC Ten Pieces BBC Learning for CBBC
Black Roses: The Killing of Sophie Lancaster BBC Learning for BBC Two
My Life, My Religion – Islam BBC Learning for BBC Two
Sleeping Lions Libra Television for BBC Two