27 February 2015
Points North: Harry Gration, Presenter, Look North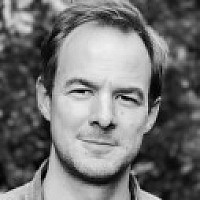 Each Friday, Points North gives a senior media figure a platform to air their views on a topical or relevant issue.
This week it's Harry Gration, co-presenter of BBC Yorkshire's Look North. A week after being named regional presenter of the year by the Royal Television Society, he reflects on how regional news broadcasting has changed.
I started working for BBC Look North in Yorkshire in 1982. Thirty-three years on I am still hanging on! It has changed beyond belief in that time.
I can remember joining at a time when film and tape were just changing roles. The era of instant editing transformed regional television because it was just the start of the technical revolution.
A typical Look North in the 80s would not have included any live outside broadcast. That was expensive, complicated and involved at least 10 people. Not to mention trying to locate a satellite.
These days it is a regular event. Indeed we often have three live broadcasts outside the studio with very few staff involved. It is our strength now. Breaking news is what we want.
The trouble though is that news becomes insatiable and demands come in from the BBC News at Six, the Ten and of course the News Channel.
I have always believed that the strength of Look North is in our ability to offer a cut-off from non-stop news at about 10 to seven. Here we should reflect our patch in a different way. Dare I say, with magazine-type features that show off our brilliant camera operators and journalists and what is special and different abut Yorkshire.
My year has I think illustrated just that. It included a 250-mile tandem tour of Yorkshire with my co-presenter Amy Garcia for Comic Relief, a trip to Afghanistan for the troops' withdrawal, major news stories on the murder of a Leeds teacher in front of her class and sexual abuse in Rotherham. Stories of national significance break on our patch all the time.
I feel privileged in doing the job I do. But my role has changed too.
I have a real responsibility to our community in Yorkshire and part of my role now is to reflect that. Being asked to front awards, lectures and public forums is vital. With an election around the corner which could be, we are told, the most vicious ever, that role for Look North has never been more important.
The future will make us even more instant as broadcasters. That for me - an old codger - will be the next challenge! I have only just managed to learn how to turn on my iPhone. Now I am told I can use it for broadcast!
And to think how cool it was back in 1982 to have a mobile phone the size of a large brick!!
Harry Gration is co-presenter of BBC Yorkshire's Look North