12 November 2014
This year's Manchester Christmas advert released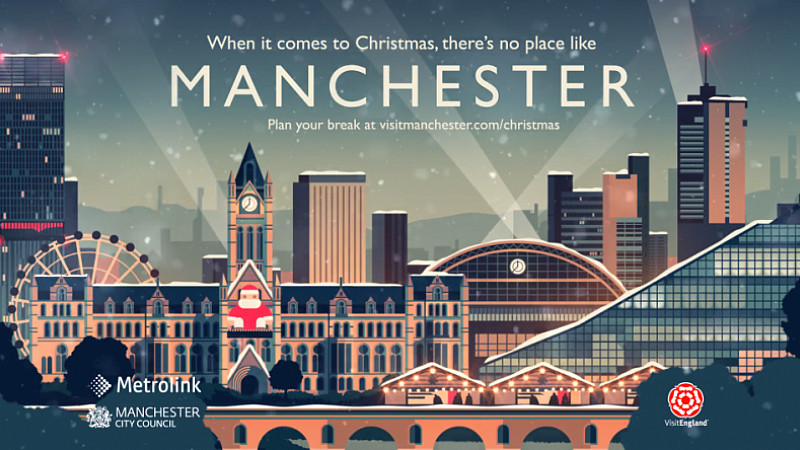 It might not have a computer generated penguin but it does feature the town hall Santa - yes the Manchester Christmas advert for this year is out.
The short film, created by Manchester animation studio Kilogramme, takes a journey through the city which inludes shopping, an ice-rink, eating out, an inevitable nod to Coronation Street and ends at the Christmas markets. It was first shown on iTV this week.
Manchester Christmas advert 2014 from Kilogramme on Vimeo.
Kilogramme says it was contacted by M-Four through Twitter for the work when they put out a call for animation companies and Daylight recommended them.
Producer Jon Turner said: "We pitched against several other companies, but the ad's director Sam Jones had a very clear idea of what she wanted to do with Owen Davey's designs and the advert as a whole.
"M-Four were impressed with her ideas and our set up and commissioned us to turn the ad around in five weeks. We brought in Heather Fenoughty at the Composer Works to compose the soundtrack and Kristian Duffy and Emma Reynolds to expand on Owen Davey's designs.
"We were all very impressed with Owen Davey's posters, but realized we needed to add to them if we were going to create a full world for animation, hence Emma and Kristian's involvement. Heather and Sam worked together to make sure the soundtrack did the same job aurally.
"We're lucky to have great animators and compositors in the studio who made change after change to keep true to the original designs, but also show Manchester in it's proper light. "
* In other news, the Christmas campaign featuring Monty the Penguin has won its first award. Animal charity Peta has presented John Lewis with a compassionate marketing award in recognition for its Christmas 2014 campaign featuring computer-generated penguins.