07 November 2014
The Light screens at Aesthetica Film Festival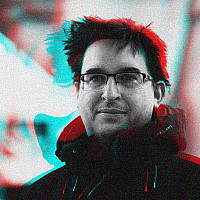 The Light, a North West short which won an international film-pitching competition, is to screen at the Aesthetic Film Festival in York, this weekend.
It was written by Didsbury-based, Simon Cookson, who not only won £25k to make the film, but also the chance to show it to Hollywood film producers, including Ralph Winter (X-Man, Fantastic 4).
Based within the American Red Scare era, the script is based on the Biblical story of Saul's conversion, on the road to Damascus. The locations of the McCarthyite era are recreated by Matt and Phreds in Manchester, the city library and disused rail tracks in Lancashire.
"I'm very happy to have been selected for Aesthetica, it's a cool festival and now BAFTA qualifying," said Cookson.
"The programme is really diverse too so I'm looking forward to hanging out in York for the weekend!"
The film festival is based in York, with 300 short films screening at 15 venues from today until Sunday. The Light will be shown at a different location each day.