15 October 2014
Partridge to reveal confessions of a cameraman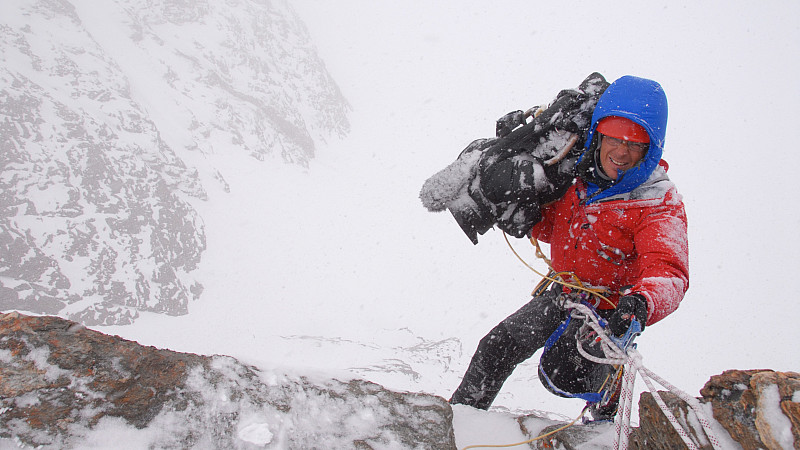 Keith Partridge in action
If you've ever wondered just how intrepid cameramen and women get those incredible shots you see on film of breathtaking moutainsides or the deepest of caves, an event being held next month could provide some answers.
Oldham Libraries has arranged for EMMY award winning cinematographer, Keith Partridge to visit Saddleworth for a behind the scenes exploration of filmmaking in some of the most extreme and challenging places on earth.
From the Elger's North Face and unexplored caves in Papua New Guinea to the summit of Everest, Partidge's work has pushed the limits of adventure filmmaking for two decades. The BAFTA winning 'Touching the Void', 'Beckoning Silence' and 'Human Planet are just some of the films that have taken him to the ends of the earth.
Writing at his website, Partridge says he is often asked whether he only shoots 'adventure'.
"The simple answer is NO. We are backed by a full BBC Training and over 20 years experience in broadcasting including work on documentary, drama and features plus extensive studio and multi-camera experience—all at a broadcast level. The ability to draw on a depth of experience is invaluable not only within the context of an adventure shoot but within any shoot.
"In terms of camera kits and shooting format it's horses for courses. What might be ideal for one assignment might prove totally unsuitable for another given production requirements, the demands of locations, accessibility etc."
The talk is being held at Millgate Arts Centre, Delph on Thursday, November 13 from 7.30pm to 9.30pm