01 August 2014
Cast announced for Paul Abbott's "outrageous" Manchester police drama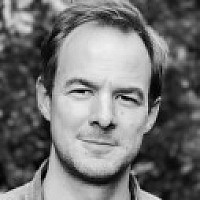 The cast has been announced for Paul Abbott's "outrageous" new police drama, No Offence, which is currently being filmed in Manchester.
Joanna Scanlan (The Thick of It, Getting On), Alexandra Roach (The Iron Lady, Utopia) and Elaine Cassidy (The Paradise, Harper's Island) will form the "unorthodox crack team of cops", with other roles for Colin Salmon (Arrow, 24: Live Another Day), Will Mellor (Dates, Broadchurch) and Paul Ritter (Friday Night Dinner, Vera).
No Offence writer Paul Abbott
Drug labs, arsonists, neo-Nazis and notorious murderers are "all in a day's work for the team", but then a "particularly twisted serial killer" leaves them reeling.
No Offence's eight episodes will kick off with a 75-minute opening episode followed by 7 x 60min episodes. It's due for transmission next year.
Abbott said: "No Offence is a precinct cop drama. It's also one of the funniest things I've ever been allowed to put together. It doesn't look like anything else.
"No Offence's cake mix is as bipolar as they get – it lurches from jet black laugh-out-loud, into fragile material on the turn of a sixpence. Writing three strong female leads is one thing. Writing women that men would choose as leaders has been particularly satisfying."
No Offence was commissioned by Piers Wenger and is produced by Abbott's company AbbottVision. Executive producers are Paul Abbott and Martin Carr and the series producer is Anna Ferguson. Commissioning editors for Channel 4 are Beth Willis and Roberto Troni.