27 August 2014
Bollywood production firm to launch Manchester facility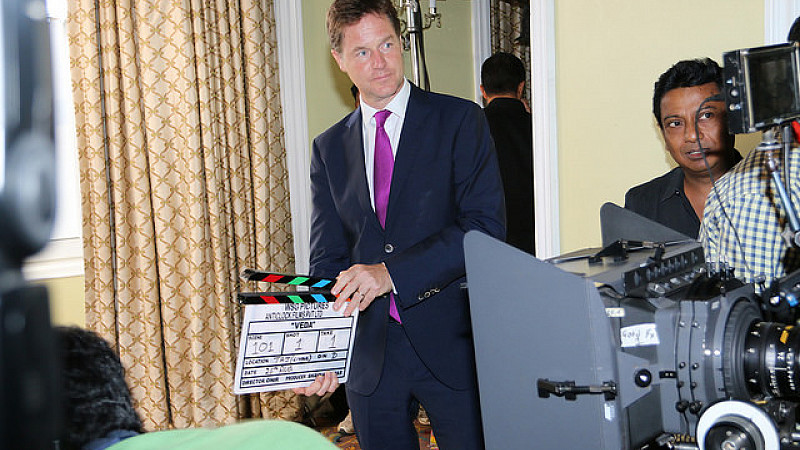 Nick Clegg at the Taj Mahal Palace Hotel in Mumbai.
Picture courtesy British High Commission
Indian production firm, Vistaar has announced it will launch a new post production facility for Bollywood movies in Manchester as part of a £13m investment to the UK in the next 18 months.
During a visit to a film set in Mumbai, Deputy Prime Minister, Nick Clegg said the new facility will be used as a hub for the editing of Indian films being shot in the UK, creating jobs and attracting further investment from the Bollywood industry.
Clegg launched the filming of the new Vistaar production, Veda, posing with the clapperboard on the first shot and meeting the cast and crew. This Indian interpretation of Shakespeare's Hamlet will be produced in both the UK and India and is due for release in the autumn of 2015.
He said: "As we have seen with American co-productions on a grand scale, Britain is one of the world's top destination for film makers. I hope Indian producers will follow their counterparts in the US and take advantage of the UK's facilities, expertise and glorious locations to create the next Indian Star Wars or Game of Thrones."
Vistaar said the investment included about £3.9 million for the British filming of Veda and £7.2 million in the new production Guru Dutt, which will be partly made in the UK.
Vistaar MD Sheetal Talwar said: "We are working with entertainment specialist Chartered Accountants Nyman Libson Paul and Goldfinch to explore and invest in further projects in the UK. We feel that our British investments shall give us opportunity to grow the business and help us achieve market leadership in our sector of socially responsible cinema."
Bollywood, India's contribution to the international film market, is the largest film producing industry in the world. It is based in Mumbai, with films predominantly in the Hindi language.
A large number of Bollywood films have been filmed in the UK which have served to generate tourism to those locations from India and overseas. The Indian film industry has shot over 50 films in the UK over the past decade, and Hindi-language films frequently enter the UK top 10.
Clegg's full announcement is available here and the visit is being tweeted @UKinIndia.