10 June 2014
Manchester art fairs agree three-year deal with Old Granada Studios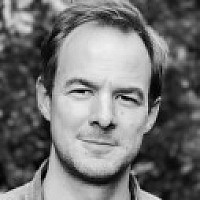 Buy Art Fair and The Manchester Contemporary have announced a partnership with Old Granada Studios that will see the art fairs staged at the Quay Street site from this September.
The three-year deal will see over £1m worth of art adorn the walls of the former studios from September 26 to 28.
Thom Hetherington at Old Granada Studios, the fairs' new venue
"We are delighted at finding such a fantastic new home for the art fairs for the next three years," said MD Thom Hetherington.
"Old Granada Studios offers the perfect scale, flexibility and city centre location to develop our art fairs alongside each other. The Studios' urban and creative offering presents the perfect fit with the events.
"Buy Art Fair offers high quality and accessible works, often from big name artists, whereas The Manchester Contemporary shows more challenging and conceptual work from emerging artists."
Over 8,000 visitors are expected to attend the events, with art sales predicted to hit £500,000. Over 50 galleries have already signed up to exhibit at Buy Art Fair.
Earlier this year, Allied London - which in partnership with Manchester City Council bought the 13.5 acre complex for £26.5m last year - began advertising the studios as a media and arts space.