21 February 2013
First iFeatures2 film goes into production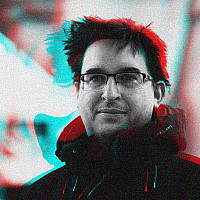 Director, Martin Radich is the first filmmaker to get backing from iFeatures2, a nationwide scheme supported by Creative England, BFI Film Fund and BBC Films.
BAFTA-nominated Raddich was born in Blackpool and is now based in Yorkshire and Norfolk is his second feature film. It follows low-budget debut Crack Willow (2008).
It tells the story of an assassin and his young son, who are hiding out in the middle of nowhere. But the past starts to catch up with them.
"The first film I saw of Martin's was In Memory of Dorothy Bennet," said producer, Finlay Pretsell.
"I knew then that this was someone I wanted to work with."
iFeatures2 is one of Creative England's flagship initiatives and it will support the development of 16 projects and the production of 3 films - these will have budgets of £350k.
They want to commission films that "capture a sense of place and even time."
"Martin is without a doubt one of the most original filmmakers in the UK today. Norfolk shows all the individuality and humanity of his previous work, whilst also stepping into new territory. The landscape of the Norfolk broads will serve Martin's vision for this unique, violent and allegorical tale," added Tristan Goligher, iFeatures2 executive producer.
Filmmakers will get support from Creative Skillset's Film Skills Fund, which includes workshops, mentoring and guidance on sales, distribution and online marketing.