17 July 2015
Simpsons writer named first official patron of Salford International Media Festival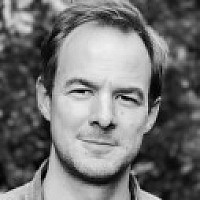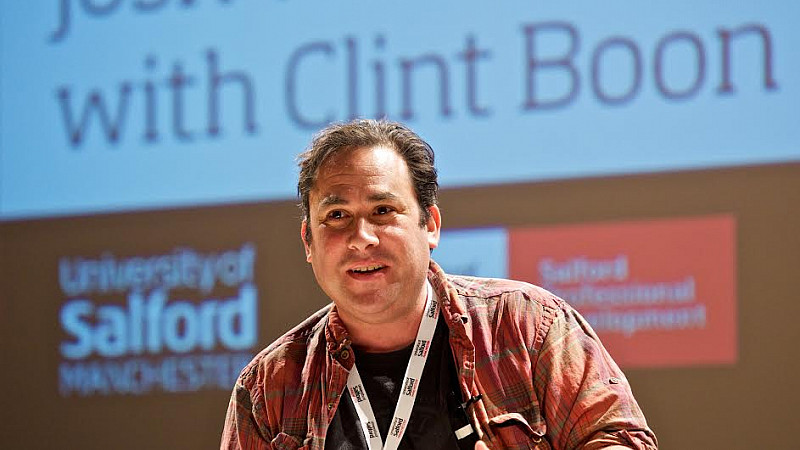 TV writer and producer Josh Weinstein, best known for his work on The Simpsons, has been named the first official patron of Salford International Media Festival.
Weinstein hit the headlines as a guest speaker at the 2013 festival when he claimed Manchester had the potential to eclipse Los Angeles as a media hub during an event with DJ and former Inspiral Carpets musician Clint Boon.
He said he had been "aching" to return to the event, which this year runs from Monday 16 November to Thursday 19 November.
Josh Weinstein in conversation with Clint Boon at the 2013 festival
He said: "Since I was first involved with the festival in 2013, I've been aching to do it again. I haven't felt a pull like this since I started as a writer on The Simpsons. It's because creativity is there.
"It's that sense of 'we follow no one, but if you want to come along, stand right by us'. It's the spirit of creativity that may still be found in pockets in places like LA or London, but Manchester – and the University of Salford as one of its most important brain centres – and this festival positively pulse with it."
Weinstein has also worked recently with Altrincham-based animation studio Factory as showrunner on its CBBC series Strange Hill High.
Fellow American Michael Rosenblum, acclaimed TV producer and pioneering video journalist, has also been announced as a keynote speaker at the Festival's 22nd Nations & Regions Media Conference, with tickets now on sale.
The event gives industry figures, from content creators to commissioners, the opportunity to tackle the big issues currently affecting the media business.
Festival director Beth Hewitt said: "This year is very much about moving the festival on into the digital era, giving broadcasters and independent producers the opportunity to meet those working in the digital industries and vice-versa.
"We're delighted that Josh Weinstein and Michael Rosenblum, both key figures in the broadcasting and digital industries, will be joining us at the festival, where we're sure to have a lively debate."