07 August 2017
A Week in My Life: David Simpson, CEO of Music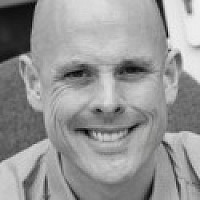 This week David Simpson, CEO and Exec Creative Director of Music, runs us through a week in his working life. To suggest another senior media or creative figure for A Week In My Life, please email david@prolificnorth.co.uk.
Monday 31 July
Monday is always a day of planning for me. The week usually starts at a comfortable pace and builds as it progresses. This week is slightly different in so much as it's a big one for Music - we're officially 10 years old on Tuesday 1st August and are throwing a party for everyone who works here, others who work with us, some friends, plus a handful of clients and a few people we've collaborated with over the years. It's a momentous achievement and we wanted to mark the occasion so there's a lot of organising to finish today.
In addition to all that, we have all our usual project planning to do, starting with our daily work allocation meeting, when the agency gets together in front of the white boards in our kitchen to schedule the work for the day. It's proven to be the best way to traffic the work through the studio, after trying loads of different methods - many of them attempting to embrace 21st century technology - and it's also a good social way to kick off each working day. I also attend our weekly status meeting at the Manchester City Academy with the marketing team over there, and jump on weekly conference calls with two other clients U&I and New World Trading Company.
Tuesday 1 August
It's the day of our 10th birthday, and the agency is giddy this morning. We tie up a few last minute arrangements in the morning, deal with a late crisis from a client before heading off to El Gato Negro in Manchester with the whole agency to have lunch and celebrate as a team before we kick off our party at Hotel Gotham this evening. We've grown from 3 to 35 over the course of the decade and every single one of the 58 people we've employed in those 10 years has made Music what it is.
As I grow older as a creative leader of a business like ours the one thing that gives me most satisfaction is to continue to give our people the best platform on which to produce the best work of their lives. I still get a huge buzz from seeing an idea arrive, seeing an individual develop and surprise me in ways that neither would expect. I've always believed in putting people into situations they're unfamiliar with and allowing them to learn from the outcomes. And it is the skills and hard work of these gifted individuals that make Music what it is. I love it and I always will.
The party goes off like clockwork and everyone seems to genuinely enjoy themselves. We get a rare opportunity to feel the love of those associated with us and have to pinch ourselves to remind ourselves how lucky we are to do what we do.
Wednesday 2 August
Obviously very little gets done. I feel pleased to keep my breakfast down (as others around me lose theirs). A good portion of the team stayed up until 5am doing karaoke and the last one into the office today arrives at 3.34pm. Late in the afternoon a few of us try to crack the brief we've been given to contribute to the book 'This Is The Place - Choose Love Manchester' - a collaboration between Tony Walsh and Manchester's creative community…. before deciding to sleep on it.
Thursday 3 August
In meetings all day today in Blackburn. We're midway through a fact-finding schedule to inform a branding project we're undertaking for a furniture manufacturer and we're spending today meeting various members of the management team to uncover their story.
Music works for lots of different brands in many different sectors, from football and fashion, to music and entertainment, across public and private sectors - many of them well known brands and household names. But this is one of the types of projects that I love to work on most. Very successful, owner managed, relatively unknown outside their field - a business that has amazing hidden stories to tell.
This particular business has a skilled manufacturing workforce, the like of which I was sure no longer existed in this country. I love making things, I love the craft of manipulating different material to create something beautiful and surprising. Music is built on this 'maker' idea, it's why we've created awards, produced public art installations, worked with branded spaces, made our business cards out of laser cut vinyl records. It's very humbling to tour the facilities up there in Blackburn and see the incredible products they can create with the combination of their hands, materials, technology and skilled tradespeople. It's inspirational and will make this project a joy to work on.
Friday 4 August
To be honest I'm still paying the price for Tuesday night, and of course we're on a pitch deadline of 5.30pm this afternoon. Not going to bang on about the worn out subject of free pitching that exists in our industry, suffice to say that three years ago we chose to pitch only if we could apply the following criteria: 1. We know who else is pitching, 2. We have a clear understanding of how and why we've been selected, 3. We get to present our work in person and 4. The budget is above a certain threshold.
We understand that pitches are sometimes required in order to comply with legislation, mainly in the case of publicly funded organisations. But I can exclusively confirm here that the process of running and responding to free pitching is costing us all way more than having skilled and informed staff selecting the right agency based on experience and reputation. With a budget threshold agreed and the brief discussed and understood, good and ongoing chemistry between client and agency will eliminate waste and save money - and great creative can not only save money but can absolutely add to the bottom line; whether that's through investment, awareness or sales. The beauty parade of free pitching is not enhancing any of these outcomes. Ok, so I did bang on a bit there.
Anyway this particular pitch ticks the boxes and gets submitted on time (we present next week). We won't win it.