How to manage your only resource in the age of the smartphone
Did you achieve everything you wanted to in 2019? When this workshop takes place the year will be 2020, and we'll officially be 20% through the 21st Century. 
All around us we have amazing technology and communications gadgetry, but are we really any more productive? Computer processing power grows exponentially year after year, yet it still takes the same amount of time to get a spreadsheet done. 
Our working hours leak out into our personal lives - early morning starts get earlier, working late gets even later and more frequent, and our weekends are encroached upon by thoughts of work, if not work itself! Many of us can't even get a decent night's sleep without stressing about something work-related. 
Our wonderful, powerful new communication gadgets, rather than making us more productive, are robbing us of our productivity. They're free to interrupt us at any time, and ultimately they provide instant access to unlimited social distraction. 
Enough is enough! It's time to wrestle back control of our productivity. No-one wants another workshop about the 'urgent vs. important matrix'. We've heard it all before. 
How will you benefit?
Get up-to-speed with the modern, effective time management practices, and how others are drawing on them to successfully increase their productivity. 
Understand how you work personally, and why you can't control your time. 
Reflect on how to start again and plan for effective output. 
Learn tips and tricks on how to get the most out of your days and weeks. 
Gain an overview of what you need in order to support continued productivity into the future. 
What's covered?
Engaging with what you're hoping to achieve by attending this workshop
Introduction and goals
Effective time management techniques
How to manage your one resource in the age of the smartphone
Learn how to get the important things done
Meet the Experts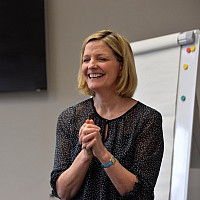 Laura Bouttell
As Managing Director of Quarterdeck, Laura is serious about inspiring people, and pulls from her wide range of experience in academia, policing and business to help build better leaders and cultures for Quarterdeck's clients.
Laura has three degrees - two of which are from the University of Oxford - and is a published author and editor in academia. After studying Business at university, she spent a short stint at Coopers & Lybrand, where she realised accounting wasn't for her. Wondering what to do with her life, she took a surprising career turn and joined the police in Chapeltown, Leeds, where she qualified as a sergeant in the quickest possible time, promoted quickly from the beat to the Murder Incident team. When Laura realised that she wasn't making the difference in the world she wanted to in the police, she decided to go back to the business world.
She built her own interior design company from scratch and worked on substantial projects, managing large teams. She featured on television on The Home Show and 'Location, Location, Location'; and in magazines such as 25 Beautiful Homes, Country House and Yorkshire Life on a regular basis. After 10 years running her own company, Laura decided to undertake a new challenge and fulfil her dream of studying English Literature at Oxford. While still working full-time, Laura scored one of the top five marks in the country in English A-level, and navigated the notorious interview process to secure offers from both Oxford and Cambridge.
As a result of her time in the corporate world, the police, founding her own business, and her time at Oxford, Laura has seen all sides of life, and uses her experiences in these diverse fields to help clients thrive in the world of corporate leadership and culture.