Duration: 6 hours
With around 3.2 billion social media users (Hootsuite) giving us around a 42% penetration globally, it is more important than ever that businesses embrace social media.
But social media can be a minefield to navigate, and extremely time intensive. With algorithms changing frequently and new platforms and content formats emerging - how do you make the most of the opportunity on social with the resources available to you? 
Join Prolific North for this course, led by expert marketer Judith Lewis, to find out. 
With over twenty years' experience in the industry, Judith now runs her own consultancy, working with the likes of Google, NatWest, NBC Universal, Virgin and many more. 
This one-day classroom-style training (via Zoom video conferencing) will give you all the knowledge you need to create and run an effective social media strategy. Like all Prolific North training, it's designed to equip you with practical insights that you can apply to your specific objectives right away. 
How will I benefit?
Learn how to audit your current approach towards social media
Identify and prioritise the quick wins and longer-term benefits
Spot opportunities for improvements through a wide variety of strategies, resources and tools
Avoid online reputation management problems
Audit your personas and ensure they are being served the right social content
Identify paid media opportunities and implement an optimised campaign
Engage with the right social media influencers for your business
Monitor and report accurately
What's covered?
Digital around the world
How platforms are performing in English speaking markets
What are the different platforms and what penetration do they have into the market?
Facebook
Snapchat
Instagram
Twitter
YouTube
Tumblr
Pinterest
Personas and how they work
Researching your audience – what are their goals and objectives?
Creating and using Personas and Scenarios
Identifying key user journeys
How to do audience research on social media platforms
How people behave on different platforms
Insight into best practices for audience development
Sources to gather audience insights
Understanding the risks by platform
Developing a social media action plan
Monitoring risks
Managing bad social broadcasting and measuring actual impact
Online reputation management monitoring and strategy
The psychology of influence
Online vs offline word of mouth, and finding key influencers
Creating an influencer marketing plan & managing influencers
Spotting fakes and when false negatives
Social advertising by platform
Tracking pixels
How to structure accounts on different platforms
Ad types on different platforms
Campaign setup on different platforms
Creating content for social media
Sizing, resolution, file size, character count and cross-posting efficiencies
Best times to post on Twitter
Best times to post on Facebook
Best times to post on Instagram
Measuring social media
Counting conversions
Crisis response & what to prepare
Meet the Experts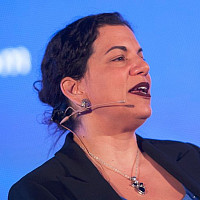 Judith Lewis
Judith is a renowned international speaker, writer, trainer, blogger and a digital and media consultant specialising in applying strategic understanding of digital technologies to help businesses innovate and optimise their effectiveness within the new, networked communications environment.
She is a regular speaker around the world on social media marketing, content strategy, paid media, and integrated digital strategy, co-hosts a marketing podcast, has contributed to the Huffington Post, and has been recognised by her peers as one of the most influential people in the UK digital industry. Judith wrote her graduating thesis on "Social Interactions via Live Online Systems", examining behaviour of people offline and within social media as it was then.
Judith has worked with market-leading global businesses including Google, NatWest/RBS, National Gallery, Fidelity, GalaCoral, NBC Universal, Readers Digest, Bayer, Family Search, Amadeus, AMD, AmEx , Virgin.com, Virgin Startup & more. She is one of the most senior consultants currently working within the UK in digital marketing at an expert level.
Judith has over 20 years of digital experience, and now runs her own consultancy.