What does your data tell you?
Google Analytics is a free website analysis tool that gives you insights into how visitors find your website, what they do when they get there and it monitors your online marketing campaigns. There are lots of analytics packages out there but Google Analytics is by far the most popular and for good reason.  This Google Analytics Training Course will help you understand how to make the most out of the data it provides.
How will I benefit?
This Google Analytics course complements the SEO 101 and PPC 101 classes and will give you what you need to become a confident website analyst. You'll learn how to catch errors before they come issues and discover the basics of digital marketing development strategy.
You'll also see how Analytics can help you learn more about your customer base and even discover audiences you didn't know you could market to. This is your opportunity to learn the tricks of the trade from a multi-award-winning digital marketing agency.
We encourage you to bring your laptops so you can work through examples and get started immediately.
What's covered?
How Google Analytics works
Adding Analytics tracking code
Measurement Issues
Setting Objectives and KPIs
User management
Adding tracking code
Setting up dashboards to view key metrics easily
Setting up reports
Setting up alerts
Connecting Analytics to Webmaster Tools and AdWords
Is my Google Analytics set up correctly - running through your troubleshooting
Who is my audience?
Where do they come from?
What browsers and devices to they use?
Who converts most?
Who engaged most?
How demographics information can help inform website content
How did visitors find our website?
What do visitors search to find our website?
What are the most prolific traffic sources?
Which campaigns/social media channels were most effective?
Tracking emails and other campaigns
How do visitors navigate our site?
Web page and site content analysis - what pages/sections are most popular?
Studying Landing Pages and Exit Pages - what do visitors arrive on and leave from?
Using Site Search for further information on the user journey
Using Events for tracking important user engagement and interaction
Looking at ways to improve site speed
Multi-Channel and Cross-Device analysis
Benchmarking your data
Ecommerce Report
Benchmarking your data
Using this data to inform website content
Other topics and questions from the group
Meet the Experts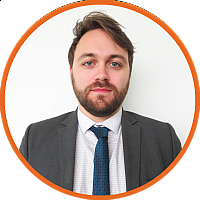 Ethan Giles
Ethan Giles is Senior Operations Manager of novi.digital, a data-driven, psychology focused digital marketing agency based in Lancaster and London. novi.digital are rated globally as one of the top digital marketing agencies and have Google Premier Partner status. Ethan has delivered a number of training sessions covering the most important areas of digital marketing and has enabled businesses to make intelligent decisions about their SEO, PPC and overall marketing strategies.